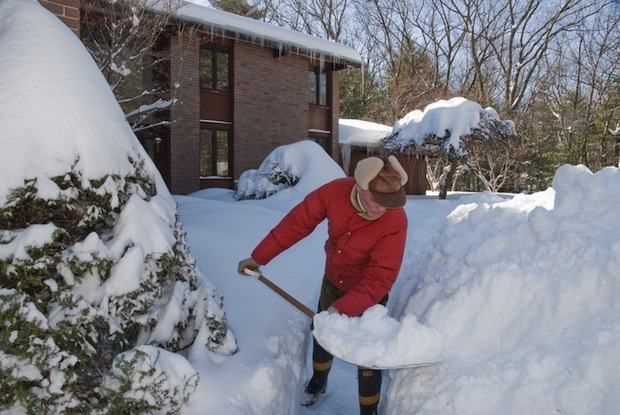 Winter is officially only a couple weeks away… yes, already. It's rainy, snowing, freezing, windy, dark early… BLAH! Its no wonder 30% of people give up working out all together during the winter months. It's a pretty good excuse to stay indoors and watch TV, but unfortunately it's also at this frosty time of year that we instinctively want to eat more and therefore gain more weight (hibernation), which makes sticking to exercise even more crucial. Remember, sticking to your workout regime will help you shed those holiday pounds while increasing your overall health and quality of life.
Dragging your butt to the gym during a snowstorm may be a little tough on your morale. Over the next couple of weeks we will post blogs on winter wonderland activities that you can do close to home or even in the comfort of your own living room. They may even turn out to be great family bonding activities.
Shoveling
Most of us think of shoveling the driveway as a boring tedious chore, but if you change your tune and view it as a cardio workout, shoveling snow can burn you on average 300-500 calories/hour.
Home Workouts For those of you who have a home gym, you have no excuse to skip a workout. Here are some good equipment choices:
Barbell & weight set
Dumbbells
Adjustable bench

A Suspension Gym

is probably your best bet since you can get a full body workout with hardly any equipment.
For a great indoor winter workout routine check out Men's Health's Article.
Skiing & Snowboarding The great thing about skiing and snowboarding is that you go through a whole body workout and don't even know it cause you're busy having fun! You are constantly using your legs, arms, and core to make turns, pick up speed, and keep your balance. The high intensity motion makes for a great cardio workout. Snowboarders and skiers can burn anywhere from 250-630 calories/hour.
Sledding Climbing up the hill is a great aerobic workout, and you'll develop strength in your quads since you will be pulling the weight of the sled behind you. Let's not forget how much fun it is. Woo-hoo!
Don't Forget To…
Do a warm up before going outside.
The cold makes muscles tense up and harder to warm up which can cause injury. Do some stretches and a warm up while still indoors, and start your workout slowly.
Layering clothing is the best way to keep warm. The first layer against your skin should be made of a "wicking" material, (polyester, polypropylene, silk, or wool). Wicking clothes absorb sweat, stopping it from evaporating (which cools you off) Make sure clothing fits snugly to prevent cold air from getting in.
The second layer should be thicker to help insulate you. Choose clothes made of synthetic fibers, like fleece.
For the third layer, choose a windproof, breathable fabric that shields you from the wind and rain.
Protect your hands, feet, and face in extreme cold by taking the same layering approach as you did with the rest of your body (wicking material socks/gloves first, synthetic pair over that). Protect your nose and mouth by wearing a ski mask or scarf. When skiing, snowboarding, or snowmobiling, protect your eyes by wearing protective goggles… AND WEAR A HAT! 30% of heat from the body is lost through the head.
As you can see, you don't have to hibernate and wait for winter to pass before you can exercise again. Get out there and have some fun! Being outside not your thing? Then pick up some equipment and workout at home. There's no excuse! Stay tuned for our next article with even more fun winter workout activities!
"LET IT SNOW, LET IT SNOW LET IT SNOW!!!"
Information Source: bodybuilding.com