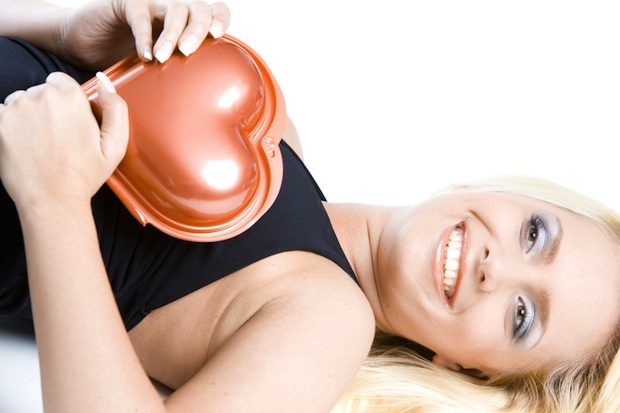 It's Valentine's Day and you want to show your love you care by showering her with boxes of chocolate. Meanwhile, your sweetheart just started their new year off right with healthy eating and regular exercise, and a giant heart shaped box of chocolate love is the last thing their hips need!
Here are some great ideas that will keep the "chocolate-giving tradition" alive while still staying healthy:
Dark Chocolate Fondue For Two
Make your valentine some dark chocolate fondue with fresh fruit for dipping. This little idea executed by candlelight can be very romantic, and lighter on the wallet than dinner at Chez Louie. Dark chocolate will also help keep your lover's heart healthy so they can stick around and keep on lovin' you for years to come.
Chocolate Facial
This facial is a yummy skin care treat that helps exfoliate and rejuvenate skin leaving it radiant, soft and smooth. Chocolate has been found to enrich your skin with anti-aging vitamins and antioxidants. Make your love an appointment at a great spa, and she'll love you forever!
A box of good quality Dark Chocolate
If your honey is the traditional type, splurge on a box of dark chocolate imported from Belgium or France with at least 70% cocoa. Yum!
Edible Arrangements
This gift kills two birds with one stone: Flowers and a yummy treat! These beautiful and tasty arrangements are a more original take on the traditional bouquet of flowers – and you can even get some of the fruit dipped in chocolate!
Chocolate Massage Oil
How about a sensual massage a la chocolate? Massage with essential oils is one of the most effective and popular uses of aromatherapy. A combination of the healing power of touch and the therapeutic power of scent. In addition, oils are absorbed into the skin, enhancing their effectiveness.
Why Chocolate is Good for You
Dark chocolate that has at least 70% cocoa is a great source of antioxidants and flavonoids. Flavonoids help prevent heart disease and lowers blood pressure. They reduce the stickiness of platelets, inhibiting blood clotting and reducing the danger of coronary artery blockages. Recent evidence suggests that chocolate also makes blood vessels more flexible. So go ahead! Chocolate-it-up this Valentine's! Just remember to stick with the good dark chocolate kind.
Happy Valentine's Day!