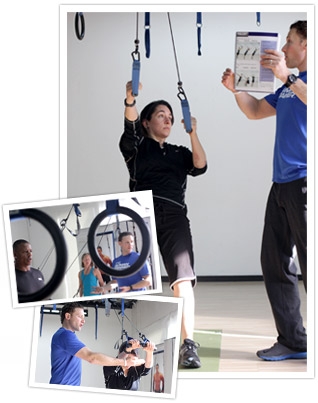 Astone Fitness sets out to have the most versatile and easy-to-use suspension gym on the market, and with the launch of The Human Trainer's new add-ons, there is no better way to have a complete full-body workout that you can do practically anywhere.
Vancouver, BC – Nov 23, 2011
Astone Fitness has today announced their release of the new and affordable Pulley and Olympic Ring attachments to the already versatile Human Trainer.
"Our goal is to make staying fit, fun and accessible to everyone from beginners to pros." says Darren Shane, Director of Fitness at Astone Fitness. "We want The Human Trainer to be a one-stop, time efficient way to do virtually any exercise." The Human Trainer's dual anchor system already allows for exercises that cannot be done on single anchor suspension gyms, and now with the new Pulley and the Olympic Rings attachments you can do even more.
The Rotational Pulley now allows The Human Trainer to unleash unlimited range of motion with smooth rotating pulley action. You can now perform new exciting exercises such as the Straight Arm Rotational Twist, The Torso Power Punch, the Suspended Bicycle and the Suspended Scissor Kick. It also works as an excellent rehabilitation tool for increasing range of motion when recovering from injuries, and is being used with professional sports teams and physiotherapists. The rotational pulley easily attaches to all The Human Trainer anchoring options and will challenge the body's core and stabilizer muscles in every exercise.The Olympic Rings are ultra durable and enable users to feel like a gymnast by performing Dips, Pull-ups and the Iron Cross. The Olympic Rings attach to all The Human Trainer accessories and can even be used with the Rotational Pulley.
The Human Trainer is a portable, fun to use, highly-effective training system that harnesses your own bodyweight to provide resistance and gives you virtually unlimited fitness options that train your entire body. By simply adjusting your angle or changing your grip, you can target any muscle group without having to stop your workout. As a fully portable exercise unit, The Human Trainer also gives you the ability to set up and workout anywhere within minutes. The Human Trainer engages your core in every exercise, increases your flexibility, and gives you an unbeatable muscular and cardiovascular workout!
About Astone Fitness – Astone Fitness is a leading retailer in at-home fitness equipment, selling products such as Ripcords, The Complete Chin-Up bar, and the complete line of Circuit7 workout DVD's.