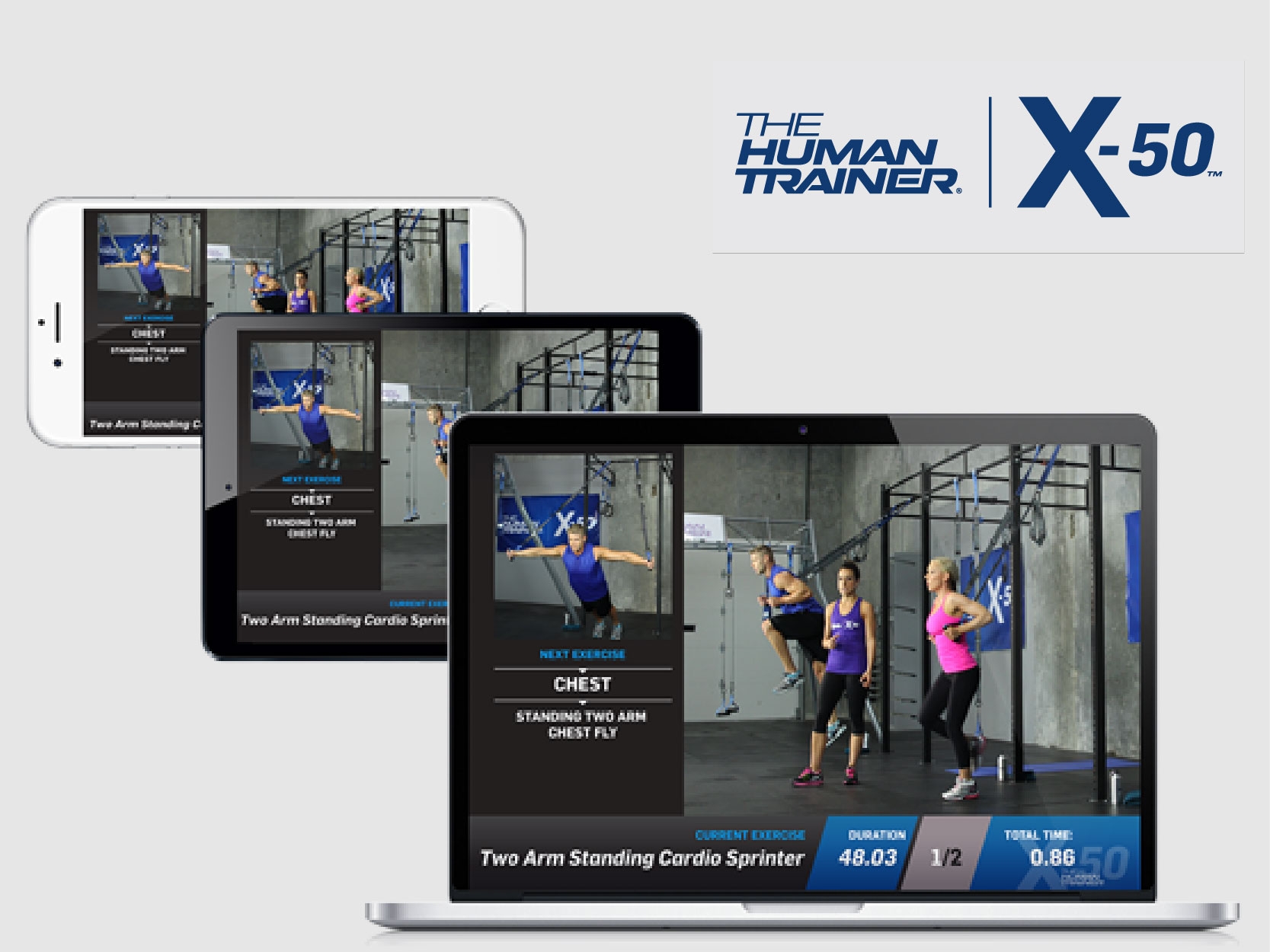 FOR IMMEDIATE RELEASE
Astone Fitness Releases Video On- Demand
Cross Conditioning Fitness Workouts
Vancouver, BC (July 14th, 2015) – Astone Fitness is proud to announce the release of The Human Trainer X-50 Workout Series and 50 Day Challenge Fitness Transformation Program. Under it's new Corporate brand HumanFit Solutions, The Human Trainer X-50 Programs are a series of 14 unique instructor led Cross Training Workouts based on HIIT protocol, guaranteed to keep you motivated and moving towards your leanest body…ever! Each workout integrates key functional training moves in combination with body weight only exercises in an interval training format to burn maximum calories and torch body fat and get you in the best shape of your life. The Human Trainer X-50 On-Demand Training Series includes 30 AND 60 minute workout options to suit every time schedule and offers both, beginner and advanced variations to cater to and challenge every fitness level. Each workout incorporates unique and challenging exercise sequences to avoid repetition and adaptation, and to achieve maximum benefits in minimal time while building a healthier, functional body.
The Human Trainer X-50 Workout Series is designed to provide the fitness enthusiast an on-demand Fitness Concierge service, offering professionally designed and expertly instructed workouts, without having to leave home. Accessible 24-7, the user can choose from 3 different formats depending on their fitness goals and workout profile: Pay-per-View, a Monthly Open- Access Subscription, or the 50-Day Fitness Challenge. The Human Trainer® X-50 digital workout collection is fully compatible with all Windows, Mac, iPhone, Android and other media browsers to provide you with the convenience of working out anyplace, anytime. All workouts can be streamed from a laptop, tablet or mobile device, for the ultimate in mobile fitness training. It's like having your very own Private Trainer to help you get the most from your workout WHEREVER you are: at home, on the road, or at the gym!
ABOUT ASTONE FITNESS
Started in 2003, Astone Fitness was created by International Certified Fitness Trainer and Semi-Pro athlete Darren Shane and a close friend. After spending years working with clients in both commercial gym and home environments, Darren recognized that many of his clients were finding it difficult to keep up with their workouts away from the gym without access to equipment, and to fit their own time and schedule. As a result, Astone Fitness was formed, with the mission to fill the need and demand for fitness products that could help people get and stay fit- anywhere, anytime, and on their own time. The motto was simple: "If it doesn't fit in your car, we won't make it or sell it."
Their flagship product, Ripcords® Resistance Bands, was launched via infomercial in 2004, and quickly became the leader in the resistance band category owing to a commitment to provide a commercial quality product to the home exerciser. With its innovative ergonomic rubber handles, and unparalleled warranty and value, the reinvention of the versatile resistance band brought a variety of celebrity, military, and fitness professional endorsements.
In 2010, Astone Fitness announced the global release of The Human Trainer®, the industry's first dual anchor bodyweight suspension training system. Offering the combination of its innovative, patented design, advanced functionality and ability to accommodate full body-weight exercises like chin ups, pulls ups, and dips, the Human Trainer® has been featured in a variety of fitness publications, endorsed by world class athletes and fitness models, and approved by allied health professionals, coaches and trainers as one of the most versatile and effective portable functional training tools. The Human Trainer®, RipCords® and other Astone Fitness products are sold around the world by our International distribution partners in over 15 countries and on Amazon.
President and CEO, Darren Shane comments, "It's very exciting to be entering into this new category of on-demand digital workouts featuring our industry leading functional training equipment. The fitness community is now fully engaged with technology, and with our new Human Trainer X-50 Digital Programs and 50 Day Challenge, fitness enthusiasts around the world now have complete access to the most effective cross training workouts and yoga practice via the convenience of their smart devices, tablets and computers anywhere they can access the internet. Our workouts will ignite and challenge everyone from beginners to elite athletes, as we lead you through a series of fun and effective drills and exercises to get the best results from your training. The 50 Day Challenge offers a complete fitness and nutrition routine, to give anyone needing a jump start to fast fitness a fixed-time program, with the right degree of motivation, inspiration and accountability. Our collection of workouts will get you off the couch or away from your usual cardio based fitness routine and have you moving with multi-directional exercises and using your own bodyweight to build lean and toned muscles. With The Human Trainer X-50 Cross Training Workout Series, my goals are to continue to make fitness accessible any place, any time and our new on-demand platform will help make this a reality."
Astone Fitness and HumanFit Solutions are excited to enter the world of On Demand fitness programming with The Human Trainer X-50 Cross Training Workout Series and 50-Day Challenge. Experience The Human Trainer X-50 at

www.thehumantrainer.com

.

With access to truly functional workouts guaranteed to get results, anywhere–anytime. For more information contact Darren Shane at Astone Fitness (E mail: darren@astonefitness.com)
The Human Trainer® X-50 Workouts: