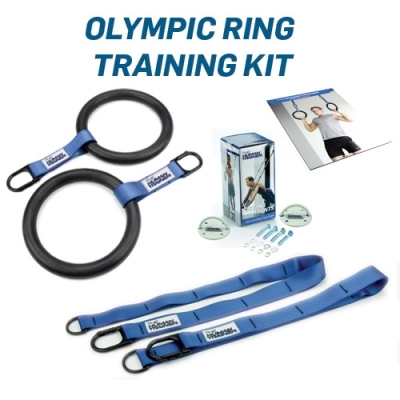 The Human Trainer Olympic Ring Kit is fully operational as a stand-alone piece of fitness equipment. The Olympic Ring Kit allows you to do an immense variety of exercises that are done by your favorite Olympic gymnasts and a variety of training programs.
The Kit allows for the option of attaching the Olympic Rings to the Versatility Anchors or the Ceiling Mounts.
Attaching the Olympic Rings to the Ceiling Mounts allows for exercises such as push-ups, dips, and chest flies, whereas The Versatility Anchors allow them to be easily attached to trees, overhead beams and other sturdy structures. The Kit includes Olympic Rings, Versatility Anchors and Ceiling Mounts.
Get your Olympic Ring Kit for 20% OFF up until the Olympics Closing Ceremonies on Aug 12th, 2012