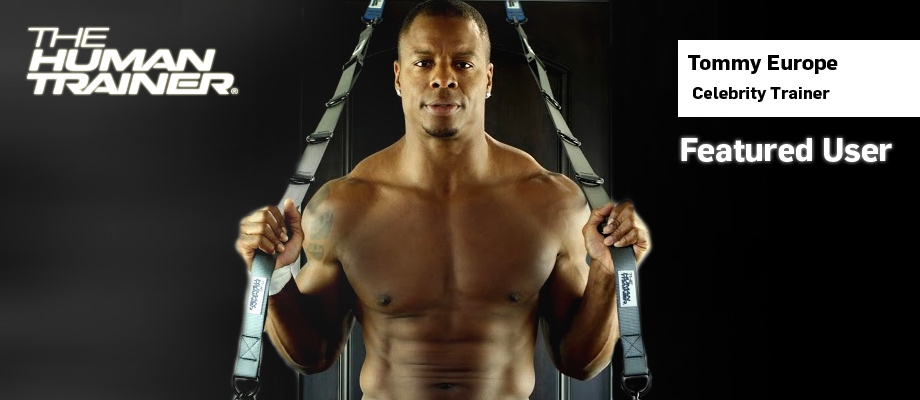 Tommy Europe began as a Professional Canadian Football defensive back for 11 seasons, and continued his career by spreading his knowledge of health and fitness to the world through being a fitness coach, personal trainer and Television host for the shows 'The Last 10 Pounds Bootcamp' and 'Bulging Brides.' He created Tommy Europe Fitness; an online fitness community that has videos, Ebooks, meal plans and fitness programs for people of all fitness levels. He is also the creator of the SHRED philosophy (acronym for Strength, Heart, Resilience, Efficient, and Discipline) and author of The 10 Pound Shred – From Flab to fit in Four weeks"
As a Fitness coach, reality-TV star, and former Professional Football player, Tommy has dedicated the last 24 years of his life to the fitness industry, and continues to be committed to improving health and fitness for all.
There are very few people in this world with the amount of life experience that Tommy has, and Tommy is a huge fan of The Human Trainer suspension gym.
How long have you been using the Human Trainer, and what results have you noticed in that time?
I've been using the Human Trainer for about 2 years, and I love the functionality, and ease of use of the system. Everything is getting stronger, and my workouts stay fun, fresh, and results driven. I love the workouts so much that I've actually shot a few workout videos using the Human Trainer. They can be found at www.tommyeuropevip.com
What are your greatest accomplishments, in particular how they relate to health, fitness and sports?
As a professional football player, I was a two time all-star defensive back in the CFL, had a shot in the NFL with the New Orleans Saints, and the highlight of my 11 year professional career came in 1994 when I won the Grey Cup as a member of the BC Lions.
In what ways do you use the Human Trainer?
For full body conditioning.
What would you say to someone considering getting a Human Trainer?
You're going to be REALLY happy that you did! Now let's SHRED it!
What have you told people about the Human Trainer?
Try it, then the choice will be clear.
How have you, or how could you, use the Human Trainer to reach your next goals?
It is a tool that can be used in a multitude of ways, and that's what you need to get to the next level.
Where do you use the Human Trainer? Have you used it indoors and outdoors?
At home and on the road, it's my gym in a bag.
What do you like most about the Human Trainer?
The dual pulley system, and the accessories.
Tommy has recently created The Tommy Europe Human Trainer Workout Ebook Set. These Ebooks take you through Tommy's personal circuit training program using The Human Trainer.
FOR A LIMITED TIME ALL TOMMY EUROPE EBOOKS ARE 10% OFF!
Type this Coupon Code at Checkout: SHREDIT
Shred your body with the whole set, or select the eBook that targets the muscle group of your choice. SHRED IT!