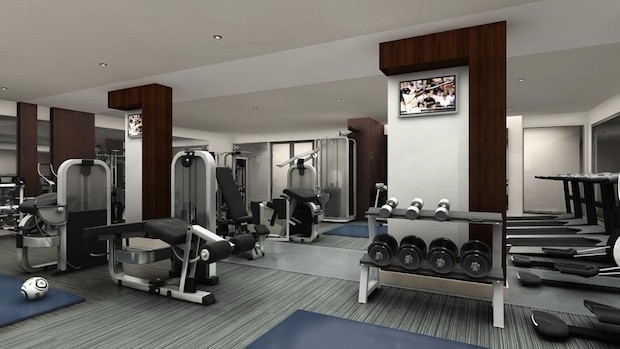 Yes, it's a new year and time to get back into shape. Put down that chocolate chip cookie and get to work! But visiting the gym is such a chore, you might say. Many other workout enthusiasts will wholeheartedly agree with you. Create your own home gym without turning an entire floor into a mirror image of the local gym hangout. Make the space all for you with these few key tips.
Don't Buy Every Workout Machine
Admit it: you often wonder what all those machines actually do in the gym. In reality, adding a simple set of free weights or dumbbells is your best bet to start a home gym. Because they aren't attached to a permanent arm moving in one direction, you can switch up any exercise with weights in hand. Work the legs and arms together, for example, by squatting while performing shoulder presses.
Cover the Floor Too
That gorgeous hardwood floor you just installed isn't going to be too pretty after dropping even just one weight on it. Be careful with your home and install rubber flooring in the gym area. You'll protect the wood below while making the area easy to clean off from sweaty workouts. Any weights dropping to the floor will simply bounce off the rubber. Talk to a gym expert when buying the rubber. It should be thick enough to withstand normal weight drops while creating a slight cushioned effect on your feet.
Add Mirrors for Safety
No, you aren't being vain or selfish by installing mirrors like the decorator in the pic below selected. In fact, mirrors are more for safety during workouts than to show off that hot body. When you perform any exercise, it's critical to have the right posture and form to avoid injury. This fact is especially true for heavy weightlifters. Add mirrors to as many walls as possible to see yourself at various angles. It also makes the space look huge when visitors take a peek inside.
Space it All Out
Your first visit to the new gym will be your last if areas aren't spaced correctly. Before hopping on that treadmill or trying some dead lifts, stand in each workout space. Carefully turn around with both arms out and parallel to the floor. If you strike anything with your hands, the space is too cramped. You need ample space to move and avoid injury. The last thing you want is to injure yourself with the wall.
Be Alternative, Man!
Home gyms don't have to be carbon copies of one another so add a few new age pieces to spark your interest. Add an exercise ball to the gym, providing you with a balance lesson each day. Try the Beginner's Exercise Ball Kit.
Resistance bands are a great alternative to free weights and take up a lot less room!
Photo Via Zillow Digs