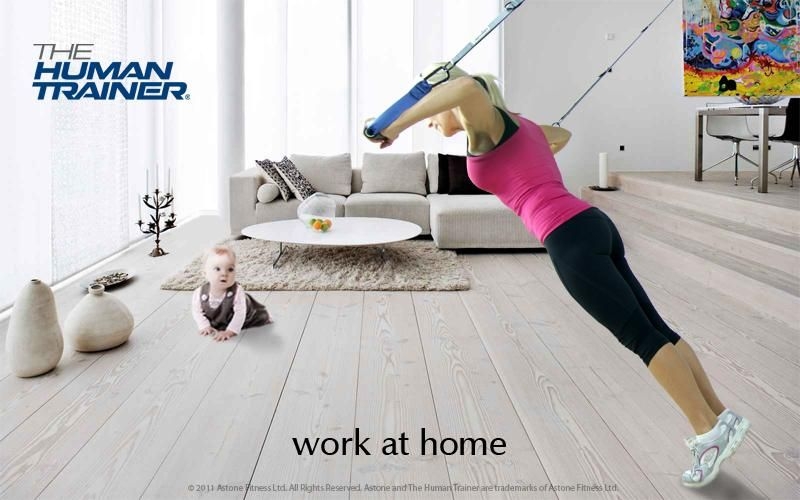 Sure, there are some equipment that is better off never passing your doorway, but these space-saving beauties are worth having, and make needing a gym membership to stay fit a thing of the past.
Chin Up Bar
Pull Ups and Chin Ups are key exercises needed to build upper body strength, and are easier to successfully achieve than one may think.
Try the Astone Fitness Chin-Up Bar– it allows you to easily and temporarily turn a doorway into a multi-position chin-up bar for a low cost.
Adjustable Dumbbells
Adjustable dumbbells are great for two main reasons: You get a lot of different weight options for less than getting individual weights, and they take up a lot less space than a full set.
Suspension Gym
They're portable and create an effective full body workout for beginners through advanced exercises. Hang it from ceiling mounts, an over head beam, or temporarily over a door.
Check out The Human Trainer – the most versatile suspension gym on the market.
Jump Rope
A jump rope makes for an incredible cardio and lower body workout combined. If you're going to get a jump rope, you should spend a few extra bucks and get a good one.
Resistance Bands
There are a ton of different exercises to be done with exercise bands. Get a door anchor and it can pretty much replace dumbbells and a hefty cable machine.
Core-Training Wheel
Trust me- a core wheel can hit the mark and target ab muscles you didn't even know you had. There are a number of varieties so do your homework and chose one that works for you.
Exercise Ball
There are lots of cool exercises that can be done on an exercise ball. You'll be surprised the variety you can achieve.
Exercise Mat
Needing a mat is pretty much a given. It gives you the grip you need for exercises like planks, and slight cushioning which helps with curl ups. Basically, it's great for any floor exercise.
Agility Training Kit
High Intensity Training is quickly replacing standard long-winded cardio sessions as results can be achieved in as little as 10 minutes. An agility training kit is exactly what you need to keep it interesting and add variety to your HIIT.
Foam Roller
Since a got my foam roller I don't workout without it. It's fantastic for massaging and stretching sore muscles on your entire body.
Resources: askmen.com, livingsocial.com