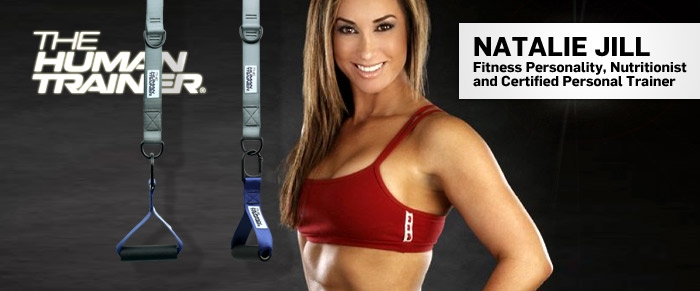 As a Fitness Expert, Licensed Sports Nutritionist, Weight Loss Consultant and Certified Personal Trainer, Natalie Jill doesn't only talk the talk but walks the walk. A 41-year-old single mom with a six-pack, Natalie is an amazing inspiration to people looking to make a positive change in their bodies around the globe.
Her focus is weight loss, food allergies and intolerances. (She herself is a celiac and has been gluten-free for over a decade.) Natalie provides personal coaching and lifestyle programs for WOMEN, MEN, VEGANS, and much more!
Recently, she got her hands on The Human Trainer and has fallen in love. She is advocating it to all her clients.
"I am a HUGE fan of using my own body weight for my workouts. AND, I do like to workout on my own schedule and in the convenience of my own home. I LOVE the Human Trainer for this reason!"
-Natalie Jill-
What are your greatest accomplishments in health and fitness?
I just turned 41 and I truly feel that I am stronger, have more energy and look better than I was at 20. As far as my accomplishments with OTHERS, my Jump Start Program has truly changed the lives of thousands of individuals. I have helped so many across the globe achieve their weight loss goals and I am grateful to have played a role in that.
What results have you noticed from using The Human Trainer?
I LOVE training with the Human Trainer and suspension straps! This method of training has really changed my body and allowed me to progress to the next level. I am a firm believer of Progression style training and with straps and especially the rings; it is impossible NOT to work on progression. Every rep, every exercise works different muscle fibers. No two workouts are the same.
In what ways do you use the Human Trainer?
I have replaced weights for the most part. I use almost exclusively Human Trainer rings and straps for full body training. I am a HUGE fan of the rings. You can view to examples of what I do with the rings on my website.
What would you say to someone considering getting a Human Trainer?
DO IT!! IT is worth the investment. It is truly an all in one gym. You do NOT need weights when you have this.
What have you told people about the Human Trainer?
YES! I am so excited about The Human Trainer and it's Olympic Rings that not only have I added it to my website, but I have shared many exercises with it via video on facebook. I have also answered a lot of questions about it at my gym when people ask about the straps and rings.
How have you, or how could you, use the Human Trainer to reach your next goals?
I am continuing on my path to progressing… And, with the rings especially I am working on more "tricks" constantly.
Where do you use the Human Trainer? Have you used it indoors and outdoors?
Mostly at the gym or my house. I have a balcony outside with rafters that I use the versatility straps on and use it outside!
What do you like most about the Human Trainer?
There is a LOT I like about it but the top 3 things are: The ring attachment, the 3 mounting options (I love the versatility option) and that it is convenient to take with me anywhere.
For more on Natalie, visit her website at: http://nataliejillfitness.com/