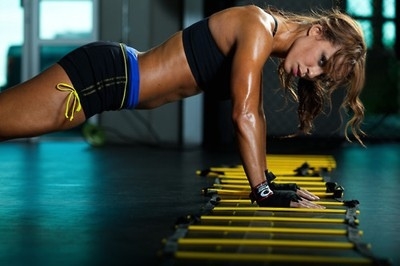 In a word, yes. While many trainers argue that going slower and longer with cardio is best to burn fat and protect muscle mass, the opposite appears to be true.
Cardio done at a higher intensity for a shorter period of time will not only help you maintain your muscle, but can actually help you build muscle mass. When you train at a slow and steady pace for a longer period of time, you are training your muscle fibers to be more aerobic and have greater endurance.
Do you know how muscle fibers adapt to becoming more aerobic and gaining greater endurance? By becoming smaller and weaker! The smaller a muscle fiber is, the less time it takes for nutrients to travel within the muscle fiber. This speeds up the rate that the nutrients can be burned for fuel.
But even if you think of this from a common-sense perspective, it makes perfect sense. Stating that slow and steady cardio for longer periods of time is best for maintaining muscle mass is similar to saying that curling 5-pound dumbbells for 30 minutes straight will build more muscle than curling 40 pound dumbbells for sets of 10 reps with 2 minutes of rest between sets. See, the higher-intensity workout clearly builds muscle better. If you think about it, weightlifting is actually a form of HIIT!
Actually, High Intensity Interval Training has begun incorporating strength training exercises. Some fitness professionals many alter the name slightly, but it is all pretty much HIIT. READ MORE on the various types of High Intensity Training.
The research backs this up:
HIIT THE BETA-ALANINE FOR MASSIVE MUSCLE GROWTH
One study in the Journal of the International Society of Sports Nutrition reported that male subjects following a 6-week HIIT program (done for 15 minutes per day at a ratio of 2:1 for exercise-to-rest, 3 days per week) while supplementing with beta-alanine gained more than 2 pounds of muscle after 3 weeks—despite no weightlifting during the program.
INCREASE YOUR TESTOSTERONE BY 100% WITH HIIT TRAINING
In another study, New Zealand researchers had competitive cyclists complete 4 weeks of HIIT training involving 30-second sprints on a stationary cycle separated by 30 seconds of rest. One group sprinted with high resistance on the pedals, making it harder to pedal, while the other group used a lighter resistance, which was easier to peddle. Both groups peddled as fast as they could during the 30-second sprints. They found that the men peddling at the highest resistance increased their testosterone levels by almost 100 percent, while the group peddling at a lighter resistance only increased test levels by about 60 percent. Since testosterone is critical for boosting muscle size and strength, doing HIIT with greater resistance may aid muscle growth and strength.
The Proof is in the Pudding!
Let's HIIT it!
Don't know where to start?
Our X-50 Challenge will guide you through 50 days worth of HIIT, all from the comfort of the device of your choosing!
COMING SOON…
Article by bodybuilding.com