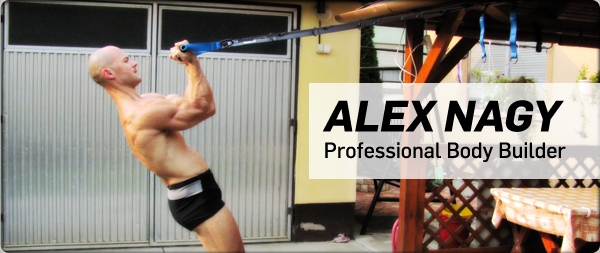 A few months ago, we heard back from our good friend and natural bodybuilder Alex Nagy. He had made quite an impact in a slew of bodybuilding championships, including winning 2nd Place in the British Natural Bodybuilding Federation (BNBF) South Championships! Alex still fails to disappoint. He trains with the Human Trainer to maintain his best fitness condition.
Just this fall, he was named the British Champion in the British Natural Bodybuilding Federation (BNBF). He is always on the run knocking competition after competition and motivated to surpass his bodybuilding and fitness goals.
To prepare for his competitions he decided to take on The Human Trainer. The Human Trainer, via suspension body weight training, creates a full-body work out and targets specific muscle groups. Suspension training allows you to perform a wide range of exercises, hone your stabilizer muscles, and lets your body determine the intensity of your workout. Not only can it be used for bodybuilding, but for stretching and improving cardiovascular level.
" I used the Human Trainer in the mornings for fat burning circuit trainings, and you can see my results, it was effective." Alex Nagy.
Alex Nagy's latest bodybuilding competitions and winnings: 1st Place – NPA South-East Championships, Tonbridge, Middleweight category (Qualified to the British Final) 2nd Place – NPA British Final's Middleweight Class 1st Place (British Champion) – BNBF British Final, Glasgow, Novice Lightweight 2nd Place – UKDFBA UK Open Championships, Rugby, Lightweight 2nd Place – Musclemania, St. Albans, British Final middleweight category 3rd Place – European Championships middleweight category Alex uses Ripcords resistance bands to also tone, build muscle, and pump up before a big competition.
Read more on Alex's bodybuilding and fitness tips using Ripcords.