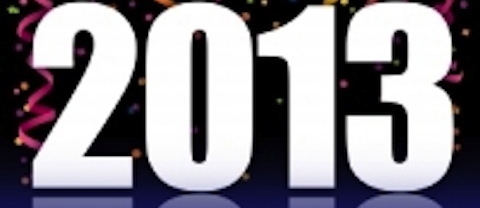 The holiday season is in full swing, and while there's no shortage of enjoyment to be found in getting together with family and friends and seeing the huge smiles after a truly perfect present is opened, there's no getting around the calorie packed dinners and desserts that are also a huge part of this time of year. People go on vacation, kick back, relax and usually break their exercise routine and their diet all to pieces. That's why most New Year's resolutions involve losing pounds or getting back to the gym. There's nothing wrong with enjoying the abundance of the season, but when January comes around it's time to get back to work. Luckily, science, technology, medicine and common sense have all come together to create more impactful, lasting strategies for losing weight and getting in shape than ever before. Here are just a few of the biggest trends in fitness for the New Year.
Ask any personal trainer and you'll hear about the importance of variety in your workouts. But did you ever consider that the efforts of a ballerina could be the key? Do some research into the barre workout to see if it's an option for you. Basically, the barre workout will combine a strong cardio and weight training routine with Pilates, yoga and the basic exercises all ballet dancers utilize. If you've ever been to a dance recital you've probably noticed there aren't any extensive waistlines to be seen. Try out the barre workout and see if it's a fit for your needs.
Another major fitness trend you'll see in the New Year is the rise of delicious, fresh and accessible juice products. Cold-pressed juices are often used in cleanses, to move impurities out of the system and help you drop a couple of pesky pounds. They're always packed with nutrition, low in calories, and if you find the right mixes they can be delicious as well. But while in the past it's been difficult to find 100% natural juices, in 2013 you'll find them in most high end supermarkets. Depending on where you live you might also find some specialty juice shops ready to cater to your nutrition and fitness needs.
Technological advances continue to aid our fitness goals, and now mobile devices can be used as your readily-available personal trainer. There are now apps on the market for both Android and iOS smartphones and tablets that help you structure and execute a personal training program to meet all of your goals in 2013. You can track your workouts, discover new exercises that utilize the equipment you already have at home, and even plan out your day's meals and sleep patterns. It's truly like having your trainer on hand 24-hours a day, which can certainly help you stay on task and avoid temptations.
Finally, although each one has become increasingly popular in recent years, 2013 is truly the year of the themed workout. First on tap is the boot camp. These are classes designed with the Army's basic training in mind. The trainers are more drill instructor than personal motivator, and will push you to your limits with the same type of exercises that prepare our Armed Service members for duty. Next is resistance training. Simple yet effective systems like The Human Trainer give you all the tools you need to break through your fitness limitations with a small package of equipment that utilizes your own bodyweight within resistance exercises. It's simple to do at home, and is the perfect mix of weight training and cardio. Finally, there's the circuit training workout. You'll need a gym equipment hire, because it requires quite a lot of gear. But by moving through a circuit of cardio and weight exercises that target various muscle groups you'll work out harder than ever before, and impact your whole body during the same trip to the gym. With options like these, you'll never lose interest in your workout again!