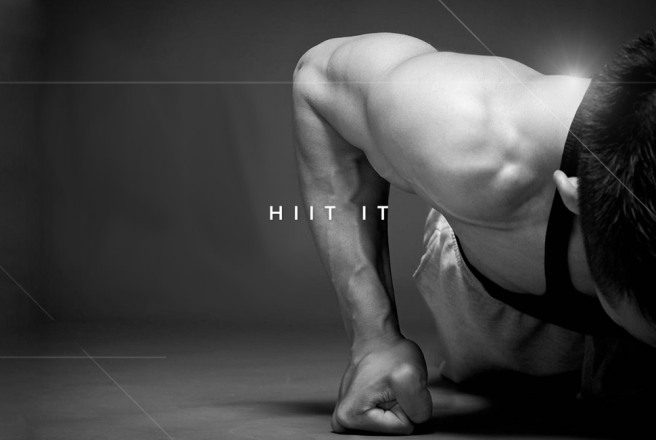 As far as cardio training goes, high-intensity interval training, aka HIIT, has been exactly that among serious fitness enthusiasts—a big "hit."
This form of cardio intersperses intervals of high-intensity exercise (such as sprinting) with intervals of either low-intensity exercise (such as walking at a slow pace). This style is a departure from continuous steady-state (slow and steady) cardio that most people do at a moderate intensity for 30-60 minutes.
With HIIT, you'll be running (or cycling or whatever) like a bat out of hell for brief stretches, but the net effect when all's said and done is better results in less time.
HIIT was developed decades ago by track coaches to better prepare runners. At the time it was known by the oh-so-catchy name of "Fartlek" training, the conjoining of the Swedish words for speed (fart) and play (lek). So it means "speed play," which is a good description of HIIT training.
GROWING BODY OF EVIDENCE
HIIT has crossed over to the fitness industry due to beneficial results established through both anecdotal reports and published research studies.
In fact, studies comparing HIIT to continuous steady-state exercise have shown that HIIT is far superior for fat loss, despite requiring less time to complete.
One of the first studies to discover that HIIT was more effective for fat loss was done in a 1994 study by researchers at Laval University (Ste-Foy, Quebec, Canada). They reported that young men and women who followed a 15-week HIIT program lost significantly more body fat than those following a 20-week continuous steady-state endurance program. This, despite the fact that the steady-state program burned about 15,000 calories more than the HIIT program.
The research has continued along the same lines:
DROP 2% BODY FAT IN 8 WEEKS
A 2001 study from East Tennessee State University demonstrated similar findings with obese subjects who followed an 8-week HIIT program (subjects dropped 2 percent in body fat) as compared to those who followed a continuous steady-state program (subjects had no percentage drop in body fat) on a treadmill. The same study also found that subjects following the HIIT program burned almost 100 more calories per day during the 24 hours after exercise.
LOSE 6 TIMES MORE BODY FAT
A study from Australia reported that females following a 20-minute HIIT program, consisting of 8-second sprints followed by 12 seconds of rest, lost six times more body fat than the group who followed a 40-minute cardio program performed at a constant intensity of 60 percent of their maximum heart rate.
30% INCREASE IN OXIDATION
A 2007 Study in the Journal of Applied Physiology reported that young females who performed seven HIIT workouts over a two-week period experienced a 30-percent increase in both fat oxidation and levels of muscle enzymes that enhance fat oxidation.
The major reason that HIIT works so well to drop body fat to a greater degree than continuous steady-state cardio appears to be due to the greater increase in resting metabolism following HIIT:
NO REST FOR YOUR METABOLISM
In a study presented at the 2007 annual meeting of the American College of Sports Medicine by Florida State University (Tallahassee), researchers reported that subjects who performed HIIT burned almost 10 percent more calories during the 24 hours following exercise as compared to those who performed continuous steady-state exercise, despite the fact that the total calories burned during the workouts were the same.
---
In addition to the increase in resting metabolism, research confirms that HIIT is effective at enhancing the metabolic machinery in muscle cells that promote fat burning and fat production.
FAST-BURNING MUSCLE
The Laval University study that found a decrease in body fat with HIIT also discovered that the HIIT subjects' muscle fibers had significantly higher markers for fat oxidation (fat burning) than those in the continuous steady-state exercise group.
DECREASE YOUR FAT ENZYMES
A study from the Norwegian University of Science and Technology (Trondheim), reported that subjects with metabolic syndrome who followed a 16-week HIIT program had a 100 percent greater decrease in content of the fat-producing enzyme fatty acid synthase as compared to subjects who followed continuous moderate-intensity exercise.
And yet another way that HIIT appears to work has to do with getting the fat to where it will be burned away for good.
USE MORE FAT FOR YOUR WORKOUT FUEL
A new study published in the American Journal of Physiology sheds some light on another way that HIIT burns more body fat. Researchers reported that 6 weeks of HIIT increased the amount of special proteins in muscle that are responsible for carrying fat into the mitochondria (where fat is burned away for fuel) by up to 50 percent. Having more of these proteins in muscle means that more fat can be burned up for fuel during workouts and when resting.
---
HIIT also helps you to maintain your sanity by getting you done with cardio quicker. With HIIT the intensity bursts may be more grueling, but they are short and challenging. That makes the workout more "fun" and completes it quicker.
Another benefit of HIIT is that you can do it almost anywhere with any piece of equipment—or without any equipment at all! The possibilities are virtually limitless. You can use it with a jump rope, with weights, with resistance bands, with your own body weight… Tabata training is even a form of HIIT.
So consider doing less slow and long workouts in the cardio area and do more HIIT. The benefits will be maximal fat loss due to a ramping up your resting metabolism and fat burning enzymes, while building muscle, all in a minimal amount of time.
---
Don't know where to start?
Our X-50 Challenge will guide you through 50 days worth of HIIT, all from the comfort of the device of your choosing! COMING SOON…
Content by: Bodybuilding.com