So, what are you doing this super bowl Sunday? Planning a party? Here are some Super Bowl munchies favs with a healthy twist!
Southwestern Layered Bean Dip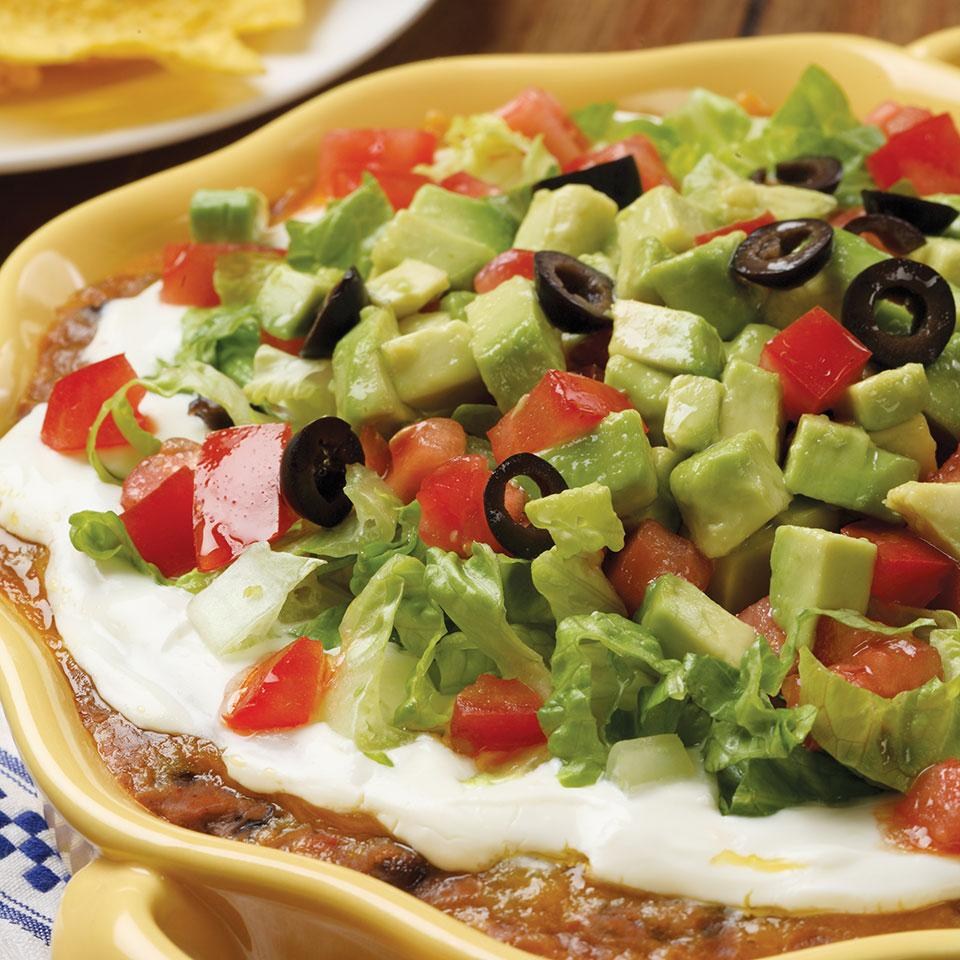 12 servings, about 1/2 cup each
Ingredients:
1 16-ounce can nonfat refried beans, preferably spicy, 1 15-ounce can black beans, rinsed 4 scallions, sliced 1/2 cup prepared salsa 1/2 teaspoon ground cumin 1/2 teaspoon chili powder 1/4 cup pickled jalapeo slices, chopped 1 cup shredded Monterey Jack, or Cheddar cheese 1/2 cup reduced-fat sour cream 1 1/2 cups chopped romaine lettuce 1 medium tomato, chopped 1 medium avocado, chopped 1/4 cup canned sliced black olives, (optional)
Preparation:
Tip:Make Step 1 up to 1 day ahead. Cover and refrigerate. To serve, continue with Steps 2 & 3.
Combine refried beans, black beans, scallions, salsa, cumin, chili powder and jalapeos in a medium bowl.
Transfer to a shallow 2-quart microwave-safe dish; sprinkle with cheese. Microwave on high until the cheese is melted and the beans are hot, 3 to 5 minutes.
Spread sour cream evenly over the hot bean mixture, and then scatter with lettuce, tomato, avocado and olives.
Guiltless Turkey Nachos by California Chef
4 servings
Less than 400 calories per serving, and is satisfyingly delicious. And, they are even gluten free!
Ingredients:
4 brown rice tortillas, olive oil spray, cumin, chile powde,r cayenne ,16 oz of lean ground turkey, salsa, 1 cup black or pinto beans.The secret of this recipe is the chips!
Take the tortillas and spray them with a touch of olive oil spray.
Dust them with a mix of cumin, chile powder & cayenne. (pre-mixed Mexican seasoning will also do)
Cut the tortillas into 8 triangles each and place on a baking sheet and bake at 375 for approximately 10 minutes.
While chips are crisping, brown turkey in a pan with ? cup of your favorite salsa.
When chips are crisp, top with ?beans.
Jalapeno Poppers
12-18 poppers
Ingredients:
12-18 whole fresh jalapenos, 1 cup nonfat refried beans, 1 cup shredded Monterey Jack or extra-sharp Cheddar cheese, 1 scallion, sliced 1 teaspoon salt, divided 1/4 cup all-purpose flour, 2 large eggs, 1/2 cup fine cornmeal, Olive oil or canola oil cooking spray
Preparation:
Tip:Make filling ahead of time. Cover and refrigerate the filling for up to 1 day. Kitchen Tip: Touching hot peppers can burn your hands. Wear rubber gloves or wash your hands thoroughly after handling them.
Make a small slit on one side of each pepper. Place the peppers in a large microwave-safe dish. Cover and microwave on High until just softened, about 5 minutes.
In the meantime, combine refried beans, cheese, scallion and 1/2 teaspoon salt in a small bowl.
When the peppers are cool enough to handle, scrape out the seeds with a small spoon (a 1/4-teaspoon measuring spoon works well). Fill each pepper with about 1 tablespoon of the bean filling, or until the pepper is full but not overstuffed (the amount will depend on the size of the pepper). Close the pepper around the filling.
Preheat oven to 450F.
Coat a large rimmed baking sheet with cooking spray.
Place flour in a shallow dish. Lightly beat eggs in another shallow dish. Combine cornmeal and the remaining 1/2 teaspoon salt in a third shallow dish. Roll each stuffed pepper in flour, shaking off any excess. Dip in egg and let any excess drip off. Then roll in the cornmeal mixture. Place the peppers on the prepared baking sheet. Generously coat all sides of each pepper with cooking spray.
Bake for 5 minutes. Turn each pepper over and continue baking until hot and the filling starts to ooze in a few spots, about 5 minutes more.
Baked Buffalo Wings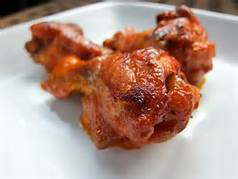 Recipe is for 20 chicken wings
Ingredients:
3/4 cup all-purpose flour, 1/2 teaspoon cayenne pepper, 1/2 teaspoon garlic powder, 1/2 teaspoon salt, 20 chicken wings, 1/2 cup melted butter, 1/2 cup hot pepper sauce (such as Frank's RedHot)
Preparation:
Line a baking sheet with aluminum foil, and lightly grease with cooking spray.
Place the flour, cayenne pepper, garlic powder, and salt into a resealable plastic bag, and shake to mix.
Add the chicken wings, Seal bag and toss until well coated with the flour mixture.
Place the wings onto the prepared baking sheet, and place into the refrigerator. Refrigerate at least 1 hour.
Preheat oven to 400F (200 C).
Whisk together the melted butter and hot sauce in a small bowl. Dip the wings into the butter mixture, and place back on the baking sheet.
Bake in the preheated oven until the chicken is no longer pink in the center, and crispy on the outside, about 45 minutes.
Turn the wings over halfway during cooking so they cook evenly.
Turkey Sliders with Gorgonzola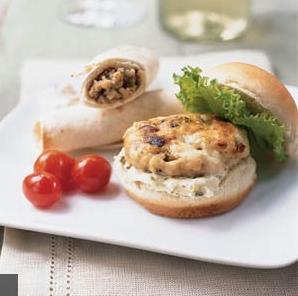 Makes 12 mini burgers
Ingredients:
1/2 teaspoon garlic powder, 1/4 teaspoon salt, 1/4 teaspoon freshly ground black pepper, 1 1/4 pounds ground turkey breast, 1/2 cup (2 ounces) crumbled Gorgonzola cheese, Cooking spray, 1/4 cup reduced-fat mayonnaise, 2 tablespoons minced sweet gherkin pickle (about 2 small), 1/8 teaspoon freshly ground black pepper, 12 (1-ounce) dinner rolls, 6 curly leaf lettuce leaves torn in half
Preparation:
Combine first 4 ingredients in a large bowl. Add cheese, stirring with a fork just until combined.
Divide turkey mixture into 12 equal portions, shaping each into a 1/4-inch-thick patty.
Heat a large nonstick skillet over medium-high heat. Coat pan with cooking spray.
Add 4 patties; cook 2 minutes. Carefully turn patties over; cook 2 minutes or until done.
Preheat oven to 400 F.
Coat a large baking sheet with cooking spray. Place patties on baking sheet in a single layer; cover with foil. Bake 10 minutes or until thoroughly heated. Keep warm.
Combine mayonnaise, pickle, and 1/8 teaspoon pepper in a small bowl. Cut rolls in half horizontally. Spread about 1 teaspoon mayonnaise mixture on bottom half of each roll; top each with 1 turkey patty and 1 piece lettuce. Cover with tops of rolls. Serve immediately.
Sources: eatingwell.com, allrecipes.com, Cook Light