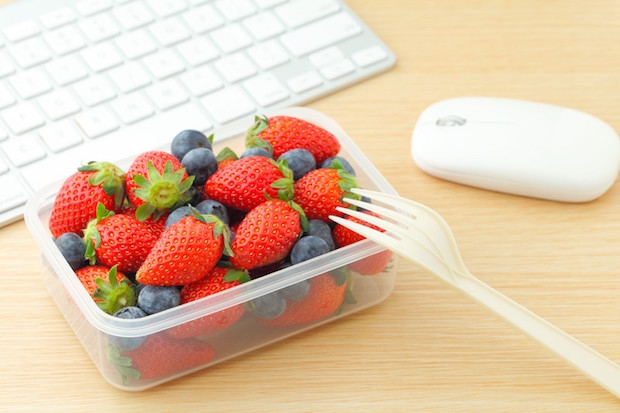 Don't get caught in front of the vending machine again. Pack these healthy snacks (each less than 200 calories) to keep you feeling full and satisfied throughout the work day.
Cucumber-Feta Bites
Cucumbers are a wonderful alternative to crackers during snack time. For Cucumber-Feta Bites, we top them off with a little cream cheese, nonfat Greek yogurt, feta cheese, and walnuts for a protein-packed crunch.
Ingredients:
3 tablespoons nonfat Greek yogurt
2 teaspoons 1/3-less-fat cream cheese
1 tablespoon feta
1 small cucumber, halved lengthwise and seeded
2 teaspoons walnuts
Preparation:
Mix yogurt, cream cheese, and feta. Spoon into cucumber; top with walnuts.
Note: MyRecipes is working with Let's Move!, the Partnership for a Healthier America, and USDA's MyPlate to give anyone looking for healthier options access to a trove of recipes that will help them create healthy, tasty plates
Salsa Guac and Pita Chips
Combine salsa and a fresh avocado together to make a quick and easy guacamole, or add 1 tablespoon of salsa to 1½ prepared guacamole to give it an extra punch of flavor.
Ingredients:
1 tablespoon fresh salsa $
1 1/2 tablespoons prepared guacamole
10 whole-grain pita chips (such as Stacy's)
Preparation:
Stir salsa into guacamole. Enjoy with pita chips.
Egg with a Kick
Make a batch of hardboiled eggs on Sunday to have on hand throughout the week. Slice the egg in half and drizzle ½ teaspoon of Sriracha for a spicy 80-calorie snack
Ingredients:
1/2 teaspoon Sriracha
1 hard-cooked egg
Preparation:
Drizzle Sriracha over hard-cooked large egg.
Rosemary Roasted Almonds
Portion size matters, especially with some nutrient-rich, yet calorically dense snacks, such as almonds. Research has shown snackers will eat more if a larger portion is offered to them, so don't plop down on the sofa with a bag of snacks and tell yourself you'll stop at just a few. Measure out a serving, and enjoy.
Smart Homemade Snack: Almonds roasted with oil and spices (111 calories)
Benefits: Studies have shown that consuming small amounts of nuts regularly has been linked to reduced risk of heart disease. Plus antioxidants contained in the skin of whole almonds may play a role in reducing oxidative stress as well as LDL cholesterol.
Ingredients:
1 tablespoon finely chopped fresh rosemary
1 tablespoon extra-virgin olive oil
1 teaspoon chile powder
3/4 teaspoon kosher salt
Dash of ground red pepper
1 (10-ounce) bag whole almonds (about 2 cups)
Preparation:
1. Preheat oven to 325°.
2. Combine all ingredients in a medium bowl; toss to coat. Arrange nut mixture in a single layer on a baking sheet lined with foil. Bake at 325° for 20 minutes or until lightly toasted. Cool to room temperature.
Popcorn
Snack packs are big business. But not all 100-calorie treats are nutritional powerhouses. If you want something that satisfies, saves money, and offers a nutritional boost, make your own pre-portioned snacks. Here are a few of our dieticians' top suggestions.
100-Calorie Snack: 3½ cups 94% fat-free microwaveable popcorn
Benefits: Popcorn has a lot of bulk for its calories, so it helps fill you up. Plus, 3½ cups contains one of your three recommended daily servings of whole grains.
recipes by cookinglight.com