Losing weight, and keeping it off, unfortunately never happens quickly. But eating the right foods can help out a whole lot. Isn't a quick or easy process, but a few simple diet tricks can be a big help along the way.
Here are a few favs from health.com that all include at least one weight-loss superfood, and can be made in 30 minutes or less!
Honey Grapefruit with Banana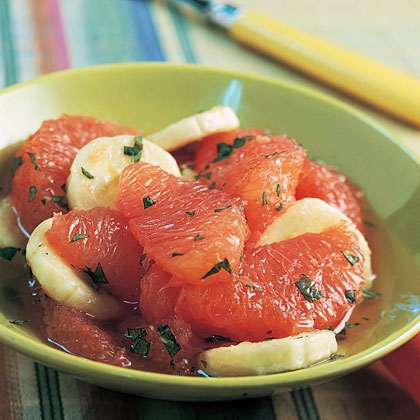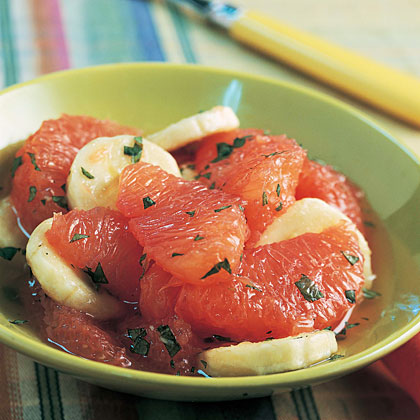 Studies show that grapefruit is great for weight loss; perhaps because of the effect it has on insulin, a fat-storing hormone.
Grapefruit is also deceptively filling because of its high concentration of water. The tanginess has also been found to stop sweet cravings!
Ingredients
1 (24-ounce) jar of refrigerated pre-cut red grapefruit sections with juice
1 cup sliced banana (about 1 banana)
1 tablespoon fresh chopped mint
1 tablespoon honey
Preparation
Drain grapefruit sections, reserving 1/4 cup juice.
Combine grapefruit sections, juice, and banana and honey in a medium bowl. Toss gently to coat. Serve immediately, or cover and chill.
Black Bean and Chicken Chilaquiles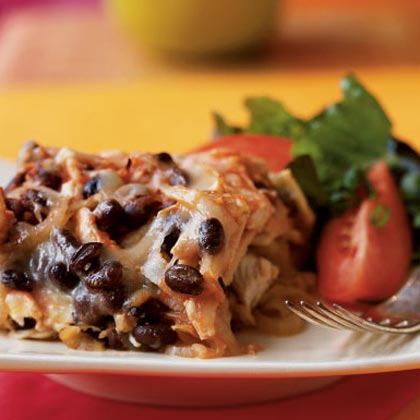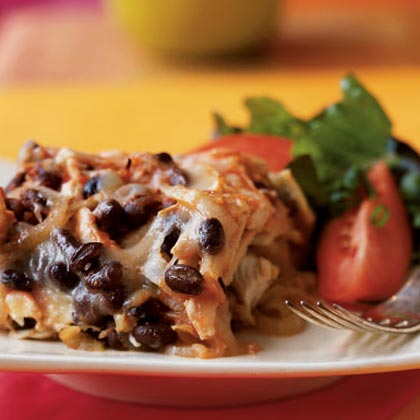 This traditional Mexican breakfast food may look naughty, but because it's baked and comes in under 300 calories and 2 grams of saturated fat per serving.
The key ingredient for weight-conscious eaters? Black beans. Their high protein and fiber content make them a weight-loss superfood.
Ingredients
Cooking spray
1 cup thinly sliced onion
5 garlic cloves, minced
2 cups shredded cooked chicken breast
1 (15-ounce) can black beans, rinsed and drained
1 cup fat-free, less-sodium chicken broth
1 (7 3/4-ounce) jar low-sodium salsa
15 (6-inch) corn tortillas, cut into 1-inch strips
1 cup shredded queso blanco (about 4 ounces)
Preparation:
Preheat oven to 450.?Heat a large nonstick skillet over medium-high heat. Coat pan with cooking spray. Add onion; saut 5 minutes or until lightly browned. Add garlic; saut 1 minute. Add chicken; cook 30 seconds. Transfer mixture to a medium bowl; stir in beans. Add broth and salsa to pan; bring to a boil. Reduce heat, and simmer 5 minutes, stirring occasionally. Set aside.
Place half of tortilla strips in bottom of an 11 x 7-inch baking dish coated with cooking spray. Layer half of chicken mixture over tortillas; top with remaining tortillas and chicken mixture. Pour broth mixture evenly over chicken mixture. Sprinkle with cheese. Bake at 450 for 10 minutes or until tortillas are lightly browned and cheese is melted.
Quinoa Salad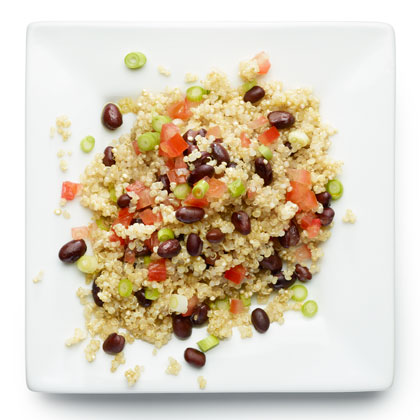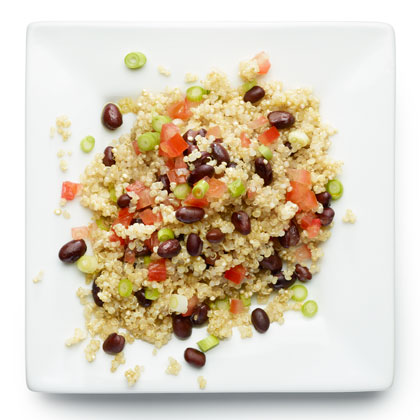 Quinoa is packed with protein and fiber. Black beans (another excellent source of fiber), fresh veggies, and fragrant spicesoh my!? Make it as a main dish for lunch or as a side dish for dinner.
Ingredients
1 cup cooked quinoa
1/3 cup canned low-sodium black beans, drained and rinsed
1 small tomato, chopped
1 scallion, sliced
1 teaspoon olive oil
1 teaspoon fresh lemon juice
Pinch of salt
Pinch of freshly ground black pepper
Preparation
In a medium bowl, gently toss all ingredients to combine.
Pan-Grilled Salmon with Pineapple Salsa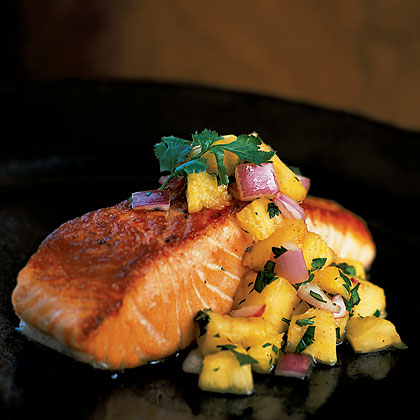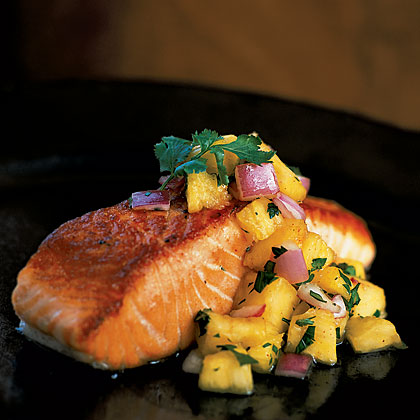 There's no better source of lean protein than salmon and it is an essential source for Omega 3s. Omega 3s have been found to be a natural aid to weight loss.
Ingredients
1 cup chopped fresh pineapple
2 tablespoons finely chopped red onion
2 tablespoons chopped cilantro
1 tablespoon rice vinegar
1/8 teaspoon ground red pepper
Cooking spray
4 (6-ounce) salmon fillets (about 1/2-inch thick)
1/2 teaspoon salt
Preparation
Combine first 5 ingredients (through to pepper) in a bowl; set aside.
Heat a nonstick grill pan coated with cooking spray over medium-high heat. Sprinkle fish with salt. Cook fish 4 minutes on each side or until it flakes easily when tested with a fork. Top with salsa.
Sunflower Lentil Spread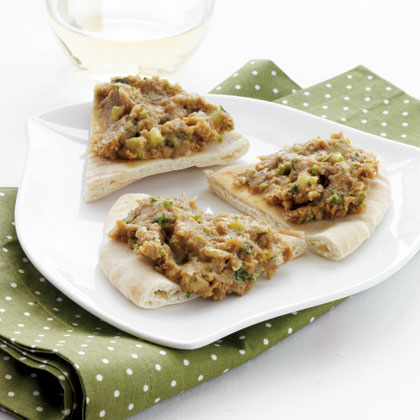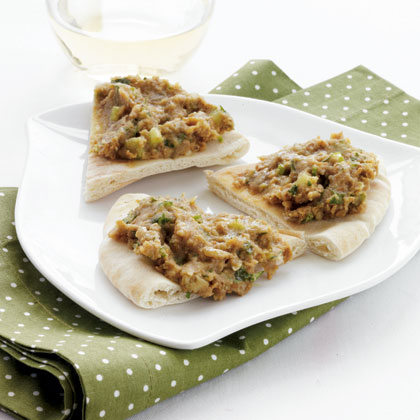 Try this spread in a veggie wrap or on whole-grain pita wedges for an afternoon snack. Either way, the mix of sunflower seeds and lentils will keep your belly satisfied. Lentils are a powerhouse provider of resistant starch, and in this recipe, they help you get nearly one-third of your way to your daily 10-gram goal.
Ingredients
1 (15-ounce) can lentils, rinsed and drained
1 tablespoon lemon juice
1/4 teaspoon salt
1/4 teaspoon pepper
2 tablespoons sunflower seeds
1 celery stalk, finely diced
1 scallion, finely diced
2 tablespoons chopped fresh parsley
2 pitas, halved
Preparation
Combine lentils, lemon juice, salt, and pepper in a blender; process until smooth.?Stir in sunflower seeds, celery, scallions, and parsley.
Microwave pita at HIGH 1 minute. Serve with spread.