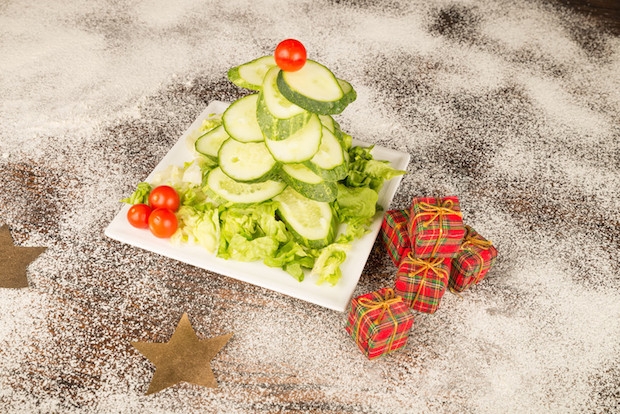 Christmas is a time for family and friends, but it's also a time for overeating on some pretty unhealthy food choices. Why not give your Christmas menu a spin this year with fun and healthy choices like these:
Fruity Christmas Tree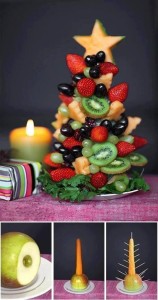 Cut off one side of an apple so you have a flat surfaceCut off one side of an apple so you have a flat surface
Remove the apple core

Put the flat side of the apple onto a plate and put a carrot into the hole where you cut out the core. This will be the base of your tree.

Cover the apple and carrot with toothpicks

Cut up your fav fruits and secure them to the toothpicks. Use as many as needed to achieve the desired shape.

This photo used?cantaloupe as a star, but any firm fruit would work. Try pineapple.
* This also works with a cone shaped?styrofoam cone as your base. Found at any arts and crafts store.
String Cheese Snowmen?
Keeping the cheese in their original wrappers, draw on the face and buttons with a marker

Cut out black top hats from construction paper. Attach onto cheese using your fav paper glue

Tie a ribbon of your choice around the neck for their little scarves
Pita Trees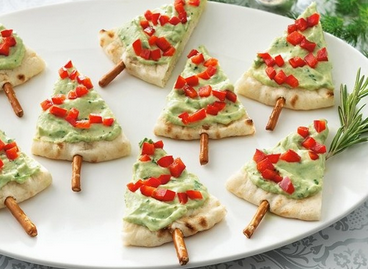 Cut pita into triangular pieces (like a pizza)?

Use a piece of a pretzel stick as the tree trunk

Cover pita with your fav green colored spread. This pic is using avocado hummus. Guacamole works great too.

Use small pieces of red bell pepper for garland
Santa's Grape Helpers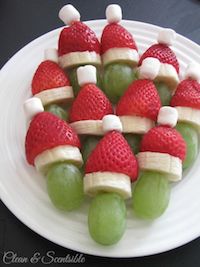 Put a toothpick though the tops of large green grapes

Slice a banana and put a slice onto each toothpick

Cut the leaves off the top of strawberries so you have a flat edge to them. Add them on top of the banana slices

Top it off with a mini marshmellow
Merry Christmas!
?
Ideas found on Pinterest