3 Recipes to Get More Pumpkin into your Belly
In the past few years, you can't seem to have Fall without the aroma of "pumpkin-spiced everything" in the air. And while we all love a little pumpkin pie or latte, the added calories aren't welcome.
Most of us don't know that this giant orange fruit is a great source of antioxidants like beta-carotene and Vitamin C, and is filled with fiber and other important nutrients.
The following are 3 amazing Pumpkin Recipes we found on the Today Show and from NutritiousLife.comthat are sure to be a hit in your home and are health to boot!
Prep | 55 min
Servings | 8
They may not seem like a natural pair, but trust us, its a match made in creamy, fall heaven.
This dessert is also a great option for autumn gatherings where gluten-free eaters are in attendance and pie isnt a possibility.
One tip to make sure you get it just right: To test if the custards done, insert a sharp knife about one inch from the side of the cup. The knife should come out clean; the center may still be unset, but itll continue to cook after its out of the oven.
WHY WE LOVE THIS RECIPE: Coconut milk is filled with healthy fats, and pumpkin is an antioxidant-rich vegetable (that happens to be incredibly delicious and in-demand). Yes, this dish is still dessert, but its pretty light in all of the things that generally make desserts unhealthy. Theres no crust in sight, and the added sugar is minimal (if you stick to the serving size!).
Pumpkin Coconut Custard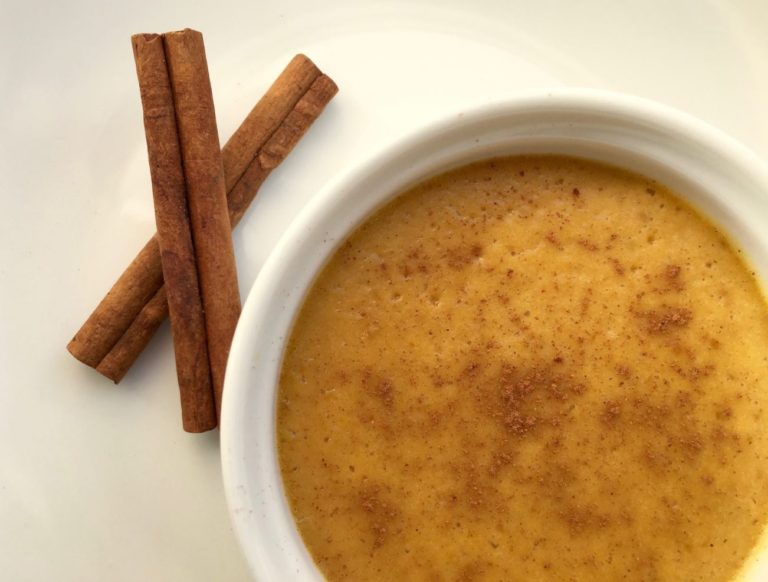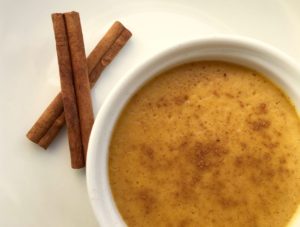 Ingredients
1 egg
1 cup unsweetened, canned or fresh pumpkin
2 tablespoons raw cane sugar
pinch salt
1/2 teaspoon ginger
1/2 teaspoon cinnamon
1/4 teaspoon nutmeg
1 teaspoon vanilla extract
8 ounces coconut milk
1/3 cup unsweetened, shredded coconut (optional)
Directions
Preheat oven to 325 F.
Prepare 8 custard cups.
Put 1 inch of water in a 9 x 11 baking pan, and set aside.
Beat the egg for 2 minutes until entirely uniform and foamy.
Combine all ingredients in medium sized bowl and blend using a hand mixer until well combined.
Pour the mixture into the custard cups.
Place the custard cups into the prepared 9 x 11 pan and bake for about 45 minutes, or until custard tests done.
Sprinkle shredded coconut evenly among cups.
Prep | 45 min
Servings | 12
When youre eating pumpkin pie during the holidays, you may be tempted to cut yourself a slice that more closely resembles a large fraction of the pie itself. (We get it, really.)
But turn your pumpkin pie into bites, and youve got automatic portion control built into the delicious dessert.
These are also just super cute, and with holiday foods, looks do matter.
WHY WE LOVE THIS RECIPE: The thin crusts include healthy chia and flaxseeds to cut down on how much sugary ginger snap youre getting in each one (and add protein and healthy fats). Coconut milk also provides healthy fats. And obviously, we love pumpkin pretty much every which way (basic, we know), since its filled with powerful antioxidants and other important nutrients.
Pumpkin Pie Bites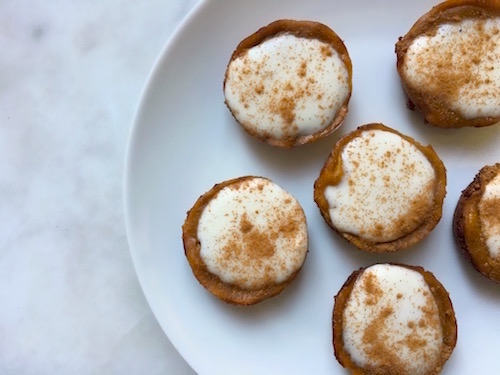 Ingredients
6 tablespoons wheat germ
3 tablespoons ground flax seed
1 tablespoon chia seeds
4 ginger snap cookies, crushed
2 eggs
1 15 ounces can unsweetened pumpkin puree
2 ounces coconut milk
1/2 cup brown sugar
1 1/2 teaspoons pumpkin pie spice
1 teaspoon vanilla extract
3/4 cup Greek yogurt
1/4 cup maple syrup
Directions
Preheat oven to 375 F. Coat nonstick mini muffin pan with coconut?oil cooking spray.
Mix wheat germ, flax seed, chia seeds and ginger snaps in bowl. Add heaping teaspoon of mixture to each muffin cup. Set aside.
Whisk eggs in another bowl. Add pumpkin puree, coconut milk, brown sugar, pumpkin pie spice, and vanilla extract. Whisk to combine.
Pour mixture evenly into prepared muffin cups.
Bake 25 to 30 minutes or until sides are sturdy and filling is set.
Let cool 10 to 15 minutes before using knife to loosen and remove from pan.
Combine yogurt and maple syrup in bowl. Cover and chill.
Top each pumpkin "bite" with dollop of yogurt mixture and sprinkle with pumpkin pie spice. Enjoy!
Prep | 45 min
Servings | 15
How many fruits and vegetables can you fit into one muffin? Five, if youre talking about one of these upgraded Morning Glory Muffins.
And thats without even considering the other healthy plant-based ingredients, like pecans, cinnamon, and chia seeds.
Theyre also totally gluten-free and grain-free thanks to the use of almond flour and are sweetened with maple syrup instead of white sugar.
The only downside is if you make a batch at the start of fall, your family and friends are going to be asking for them all season long.
WHY WE LOVE THIS RECIPE
If you love the flavors of autumn, youll fall for these muffins fast, thanks to pumpkin, apple, and cinnamon. Bonus: chia seeds add a protein punch.
Healthy Morning Glory Muffins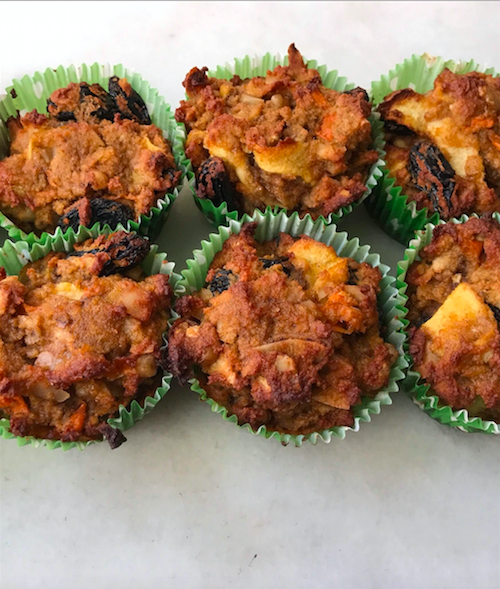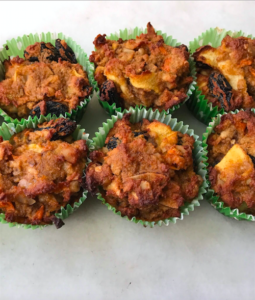 Ingredients
1/2 cup pumpkin puree
3 eggs
1/4 cup pure maple syrup
1 teaspoon pure vanilla extract
1 cup grated carrot
1 cup grated granny smith apple
2 teaspoons fresh ginger, peeled and grated
2 cups almond flour
1 cup unsweetened shredded coconut
2/3 cup black raisins
2/3 cup pecans
2 teaspoons ground cinnamon
1 teaspoon baking powder
1/4 teaspoon baking soda
1/2 teaspoon sea salt
1 tablespoon chia seeds
Directions
Preheat oven to 350 degrees and fill regular sized muffin tray with baking cups.
In a large mixing bowl, whisk together the pumpkin, eggs, maple syrup, vanilla, carrot, apple, and ginger until well combined (wet ingredients).
In a separate bowl, stir together the almond flour, coconut, raisins, pecans, cinnamon, baking powder, baking soda, salt, and chia seeds (dry ingredients).
Pour the dry ingredients into the wet ingredients and stir until well combined.
Scoop batter into lined muffin tray, filling the cups ? of the way full.
Place muffin tray in the center rack and bake for 30-35 minutes, or until a toothpick tests clean.