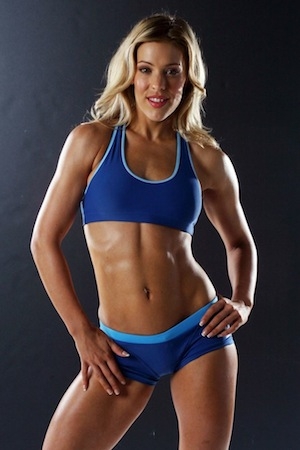 International Fitness Competitor
Michelle Jeanpierre is from Victoria, B.C. Canada. She is a skilled Stunt Performer and has made many appearances in various film and television productions including Scary Movie 4, Masters of Horror, Stargate-SG-1, Whistler, and Aliens in America. She has recently started competing in major fitness competitions.
Michelle takes you through the Circuit7 Free Weight Workouts.
This year she stormed the competition circuit as a fitness model/figure competitor. She took consecutive wins at her debut shows, and placed in the top 5 at this year's Provincial Fitness and Figure Championships in an impressive line-up of seasoned competitors. She concluded her first competitive season with the WBFF World Championships and walked away with 2 Top 3 finishes, a crowd favorite! All the hard work and dedication shows, she is truly living the fitness lifestyle and the industry is taking notice.
Michelle's schedule is rapidly filling up with plenty of new work opportunities. This includes lots of travel, booth appearances, workout DVD shoots, photo shoots, as well as writing for various high traffic fitness sites and publications. She hopes that through this median she will be able to inspire people to be healthy and active and to pursue their own goals and dreams. I think what we've seen so far from this fitness newbie is just the tip of the titanic sized iceberg.