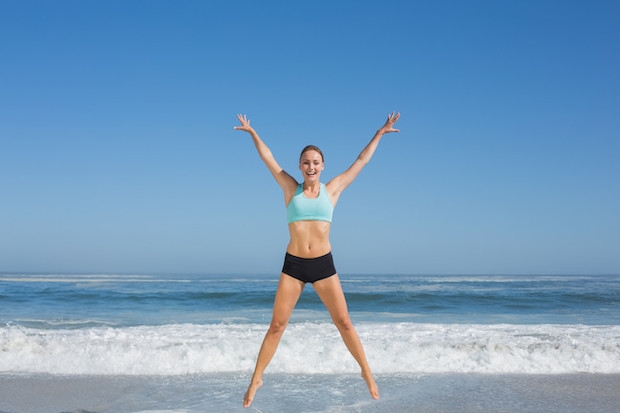 It's summer vacation time, and that usually means some travelling. Though it's true that relaxation and getting away from your daily routine can do wonders for your mind, body, and soul, it can also be detrimental to your workout and healthy diet regimen.
Most people take vacation as a time to let it all hang out and eat and drink to their heart's content. The problem with this is that we usually hate ourselves when we get back home and realize we packed on 10 pounds. Plus, letting go of your workout completely, even if just for a week or two, can make it hard to get back into the habit. You'll just feel like you're starting all over again, and this can be very discouraging. Though it's fine to take it a little easier while on vacation one must remember that health and fitness is an ongoing lifestyle choice.
Here are some tips to help you stay on track:
Eliminate key excuses right off the bat:
"I didn't bring my running shoes." So, pack them! Be sure to have a couple of workout outfits, swimsuit, and your athletic shoes in your bag.
"The hotel gym sucks!" The Human Trainer and Ripcords are great light weight fitness equipment that easily fit in your suitcase, and make it easy to do a full body resistance and cardio workout in the comfort of your hotel room!
"But there's no room in my suitcase." Then take advantage of your own body weight. Do push-ups, sit-ups, squats, and lunges. You can even incorporate your hotel-room furniture, like using the edge of the bed for tricep dips.
"It takes too much time." There are plenty of youtube videos and exercise DVD's that give you a quickie full body workout. Take Astone Fitness' Circuit7 series for example: it gives you a great workout in just 7 minutes. Even a short workout is better than nothing!
"The class is too early" Many hotels, resorts, and cruises offer daily exercises classes. They do tend to be earlier in the morning, but remember an early morning means better selection of beach chairs. See! Positive thinking!
Other things you can do:
Take the stairs instead of the elevator

Check out local parks and trails for walking and running

Swim laps in the hotel pool

Don't wait till you get there: stretch and walk around in planes, trains, and at rest stops to keep from getting sore and stiff.
FOOD: When it comes to eating on vacation I believe balance is key. If you overindulge on one meal try to eat more sensibly on the other two. Try to remember to maintain healthy portion sizes. If you must have dessert try to share it or only eat a half portion. With alcohol, stay away from sugary mixers, and remember moderation is key.
Getting Back Home:
Unless you worked out at the same intensity level you usually do don't expect to jump right back into your regular routine as soon as you get back. Evaluate your current fitness level, and set goals accordingly. Cut your workout in half for the first few days to give our body the time it needs to readjust and get back up to your regular fitness level. Listen to your body and don't push it until it's ready.
The tips and equipment listed in this article are also great for business travel. Practice these tips whenever travelling and you'll never have a trip get you off track again.