You can still enjoy Thanksgiving while making healthy choices with these great side dish recipes.
Broccoli Saute
Broccoli gives your festivites the greens your body needs!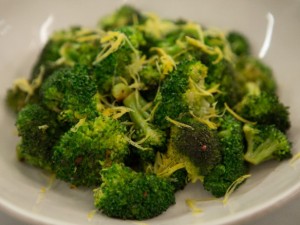 TOTAL TIME: 25 min
Prep: 5 min
Inactive Prep: 5 min
Cook: 15 min
YIELD: 2 to 3 servings
INGREDIENTS
12 ounces broccoli florets (from about 1 medium head)
1 tablespoon olive oil
1/2 teaspoon kosher salt
1/2 teaspoon garlic powder
1/8 teaspoon red pepper flakes
1/2 lemon, zested and juiced
DIRECTIONS
Bring some water to a simmer in a medium pot and set a steamer insert over it. Prepare an ice water bath. Add the broccoli to the steamer insert, cover and steam until al dente, about 5 minutes. Carefully remove the broccoli and plunge into the icy water. Let cool completely before removing it from the water. Pat dry and then set aside.
In a large skillet over medium heat, add the oil and heat until shimmering but not smoking. Add the broccoli, salt, garlic powder and red pepper flakes and saute until the broccoli is soft and brown around the edges, about 8 minutes. Remove from the heat and add the lemon zest and juice.
Fresh Green Bean Casserole
Did you that canned green beans contain the most preservatives over all canned veggies? Go fresh!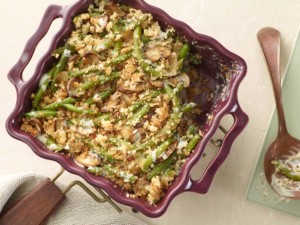 TOTAL TIME: 1 hr
Prep: 20 min
Inactive Prep: —
Cook: 40 min
YIELD: 6 servings
INGREDIENTS
Nonstick cooking spray, for greasing
5 cups sliced green beans
4 1/4 cups low-sodium chicken broth
cup panko breadcrumbs
1 cup grated Parmesan
1 tablespoon plus 2 teaspoons canola oil
1 1/2 cups diced onions
2 cups sliced baby bella mushrooms
2 tablespoons cornstarch
1/2 cup reduced-fat sour cream
1/2 teaspoon House Seasoning, recipe follows
1/2 teaspoon salt
HOUSE SEASONING:
1 cup kosher salt
1/4 cup garlic powder
DIRECTIONS
Preheat the oven to 350 degrees F. Spray a 1 1/2-quart baking dish with nonstick spray.
Boil the green beans in the chicken broth for about 20 minutes, and then drain, reserving 1 1/2 cups of the chicken broth.
Meanwhile, mix together the breadcrumbs, Parmesan and 2 teaspoons of the oil in a small bowl. Set aside.
Heat the remaining 1 tablespoon oil in a large skillet over medium heat. Saute the onions until translucent, 2 to 3 minutes, and then add the mushrooms and continue to cook for 3 to 4 minutes longer. Remove from the heat.
Pour the reserved 1 1/2 cups chicken broth back into the pot the green beans boiled in and bring to a boil. Add the green beans to the skillet with the mushrooms and onions.
While that is coming to a boil, combine the cornstarch and 1/4 cup water in a small bowl to make a slurry. Slowly pour the slurry into the boiling broth, whisking constantly as it thickens, about 2 minutes. Pour the thickened mixture over the green beans and add the sour cream, House Seasoning and salt. Stir well.
Pour into the baking dish and sprinkle with the panko and cheese mixture. Bake until the casserole is hot, about 10 minutes, and then broil until the breadcrumb topping is slightly browned, 1 to 2 minutes.
Mix together the salt, garlic powder and pepper.
Roasted Baby Potatoes with Rosemary and Garlic
Skip the mash filled with butter and roast your potatoes. It adds color to your plate too!
TOTAL TIME: 1 hr 5 min
Prep: 20 min
Inactive Prep: —
Cook: 45 min
YIELD: 6 servings
INGREDIENTS
3 pounds assorted baby potatoes (such as red-skinned, white-skinned and Peruvian purple), rinsed and halved
1 large red onion, coarsely chopped
12 cloves garlic
2 tablespoons chopped fresh rosemary
1/4 cup extra-virgin olive oil
1 teaspoon salt
1/2 teaspoon ground black pepper
DIRECTIONS
Preheat the oven to 425 degrees F.
In a large bowl, toss together the potatoes, red onions, garlic, rosemary, olive oil, salt and pepper. Spread the potato mixture out evenly on a baking sheet; roast until the potatoes are tender, crispy and browned, 40 to 45 minutes.
Honey Roasted Sweet Potatoes
Honey instead of sugar. Healthy & Yum!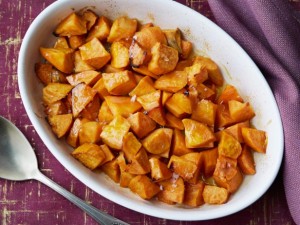 TOTAL TIME: 1 hr 15 min
Prep: 15 min
Inactive Prep: —
Cook: 1 hr
YIELD:
6 servings (serving size 3/4 cup)
INGREDIENTS
2 pounds red-skinned sweet potatoes
2 tablespoons olive oil
2 tablespoons honey
1 teaspoon fresh lemon juice
1/2 teaspoon salt
DIRECTIONS
Preheat oven to 350 degrees F.
Peel and cut the sweet potatoes into 1-inch pieces and put in a 9 by 13 baking dish. In a small bowl whisk together olive oil, honey and lemon juice. Pour mixture over potatoes and toss to coat. Sprinkle with the salt, and bake, stirring occasionally, for about 1 hour, until potatoes are tender.
Cranberry Sauce sweetened with Honey
Cranberry sauce is mostly sugar. Make it yourself and with honey. Honey is so good for you!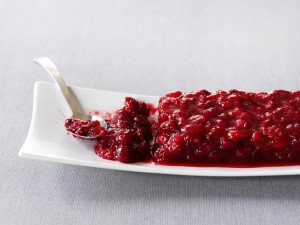 TOTAL TIME: 12 hr 30 min
Prep: 10 min
Inactive Prep: 12 hr
Cook: 20 min
YIELD: 6 to 8 servings
INGREDIENTS
1/4 cup freshly squeezed orange juice
1/4 cup 100 percent cranberry juice, not cocktail
1 cup honey
1 pound fresh cranberries, approximately 4 cups
DIRECTIONS
Wash the cranberries and discard any soft or wrinkled ones.
Combine the orange juice, cranberry juice and honey in a 2-quart saucepan over medium-high heat. Bring to a boil and then reduce the heat to medium-low and simmer for 5 minutes. Add the cranberries and cook for 15 minutes, stirring occasionally, until the cranberries burst and the mixture thickens. Do not cook for more than 15 minutes as the pectin will start to break down and the sauce will not set as well. Remove from the heat and allow to cool for 5 minutes.
Carefully spoon the cranberry sauce into a 3 cup mold. Place in the refrigerator for at least 6 hours and up to overnight.
Remove from the refrigerator, overturn the mold and slide out the sauce. Slice and serve.
recipes and photos by CookingChannelTV