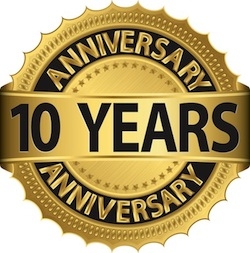 Happy Anniversary Astone Fitness!
We're Celebrating 10 YEARS in Business!
How did we do it?
With High Quality Products

Superb Customer Service

The best Warranties in the Business

And YOU!
Our Warranties:
– The Human Trainer suspension gym = 2 Years (Compared to competitor brands at 1 year)
– Ripcords Resistance Bands = Lifetime Replacement Warranty
– StretchBuddy Stretch Straps = 25 Years
– 90 Day Money Back Guarantee on ALL Astone products purchased on our website
Our Top Accomplishments:
Ripcords® quickly became the leader in the resistance bands category. The success was owed to a commitment to quality, innovative ergonomic handles and a strong brand backed by a solid warranty and satisfaction guarantee.
Due to the combination of high product quality, innovative, patented design and advanced functionality, the Human Trainer® is now widely recognized as the leading functional fitness product on the market today.
In January 2013,we appeared on CBC Television's wildly popular show, The Dragon's Den to pitch an investment to 5 of Canada's leading business tycoons.
We couldn't have done it without YOU:
We wouldn't be here without the continuing loyalty and support of our customers. Thank you so much for your ongoing business.