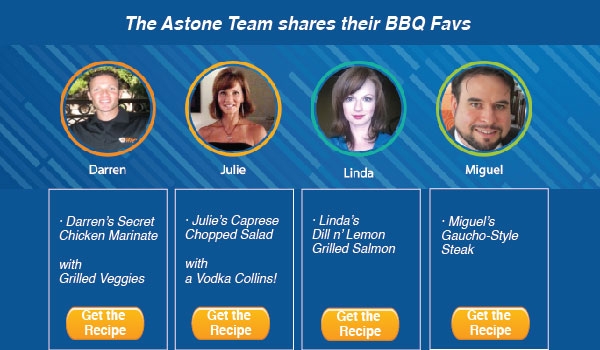 Darren (The Pres):
A Great Tasty BBQ Favourite – Marinated Chicken
Buy non-hormone or organic chicken and cut each piece into small pieces (approximately 4 inches x 2 inches)
Marinate Ingredients:
¼ cup Olive Oil
¼ cup Sweet Chili Sauce
¼ Soy Sauce
¼ Maple Syrup
½ tablespoon Chili Flakes
1 tablespoon Dijon Mustard
1 tablespoon Salt & Pepper
Toss all ingredients together and thoroughly mix! Leave in fridge for 24 hours and the pre-heat BBQ. Grill for 5-8 minutes per side or until fully cooked.
Add some Healthy Grilled Veggies to your Summer BBQ!
Cut the following veggies into different sizes:
Yellow and Green Zucchini
Green, Yellow, Red Peppers
Mushrooms (med size)
Cherry Tomatoes (med size)
Pre-heat the BBQ and Grill the vegetable for approximately 10-12 minutes until fully cooked. Continue to keep turning to avoid burning the vegetables.
Julie (Director of Sales & Marketing):
Caprese Chopped Salad
SUPER Easy to make and so tasty! A great BBQ favourite, and travels great for pot lucks too!
Ingredients:
1/4 cup Balsamic Vinegar
2 packages of grape tomatoes (sliced each in half)
12 ounces Mozzarella Cheese balls ( boconcini) (diced into pieces)
Fresh Basil Leaves (shredded)
1/4 cup Olive Oil
Kosher Salt And Freshly Ground Black Pepper
Toss all ingredients together and serve!
Vodka Collins
As refreshing as lemonade, but gets you a little bit tipsy. Careful… they go down pretty quick!!
Ingredients:
2 oz. Kettle One vodka
juice of 1/2 lemon
1 tsp. sugar or liquid sugar syrup to taste
club soda or fizzy water
Directions: Combine all ingredients except club soda in a shaker. Shake well and strain into a tall glass (also known as a Collins glass, conveniently enough). Add ice and top with club soda. Optional: Garnish with a lemon slice and/or maraschino cherry.
Linda (aka Fitness Dame):
Grilled Lemon an Dill Salmon
Most people don't think of making fish on the grill, but it comes out to die for!
Ingredients
1 1/2 lbs. salmon
2 tablespoons olive oil
2 tablespoons fresh dill
1 garlic clove, minced
1 tablespoon lemon juice
salt and pepper to taste
Directions:
* Make sure you spray some cooking oil on grill before turning it on. This will prevent fish from sticking.
1. In a small bowl, combine oil, herbs, garlic, lemon juice, salt and pepper.
2. Using a pastry brush, brush salmon with herbed mixture.
3. Cook on barbecue until done (salmon is done when it flakes when tested with a fork.)
Recipe courtesy of FoodNetwork
Miguel (Customer Service Extrodinaire)
Gaucho-Style Steak with Chimichurri Sauce
Ingredients
Argentinian Chimichurri Sauce:
1 cup lightly packed chopped parsley (ideally, flat leaf "Italian" parsley)
3 to 5 cloves garlic, minced
1 teaspoon salt
1/2 teaspoon freshly ground pepper
1/2 teaspoon chili pepper flakes
2 tablespoons fresh oregano leaves (optional)
2 tablespoons shallot or onion, minced
3/4 cup vegetable or olive oil
3 tablespoons sherry wine vinegar, or red wine vinegar
3 tablespoons lemon juice
Steak:
1 tablespoon cayenne pepper
3 tablespoons salt
2 1/2 pounds rib-eye, New York strip, or sirloin steak, 1 1/2 inches thick
2 baguettes, sliced into 1/4-inch-thick slices
Preheat a grill.
Place all chimichurri sauce ingredients in a blender or food processor and pulse until well chopped, but not pureed. Reserve.
Dissolve cayenne pepper and salt in 1 cup hot water. Transfer to a squeeze container.
Place the steak directly over a hot grill, baste with the chimichurri grilling sauce, and grill until the outer portion of the meat reaches the desired degree of doneness. Remove the steak from the grill and slice long strips from the outer edges of the steak. Instruct guests to pick up a steak slice from the cutting board with their fingers, place it on a slice of baguette, and enjoy. Return the remaining steak to the grill, baste, and grill until more of the steak is cooked. Remove and repeat the slicing and serving procedure until steak is consumed. For extra spicy steak, baste 2 or 3 additional times with the cayenne pepper mixture during grilling process. Spoon chimichurri sauce over steak.
Recipe courtesy of Bob Blumer
Let us know how they turned out!