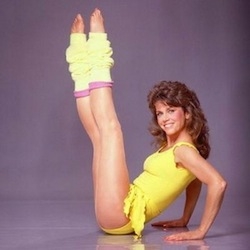 In keeping with our fitness theme, here are some great ideas for fitness inspired Halloween Costumes.
Whether you're a mega fan, or just wanna show off that tight body you've been working so hard on, we've got the perfect fit for your fitness!
Troy Polamalu

Polamalu is the perfect sports fan's costume with that crazy head of hair of his. Grab a Steeler's jersey, a "Diana Ross wig," and you're good to go!
Couples Idea:
For a few good laughs have your partner dress up like a giant bottle of Head and Shoulders shampoo. You'll definitely be the talk of the night!
The Biggest Loser Champ
Did you lose a bunch of weight this year? What better way to show it off then by dressing up like a champ from the TV show Biggest Loser! All you need is a T-shirt with the show's logo. (They sell them on their site), a pair of shorts, and sneakers!
Couples Idea:
Have your partner dress up as Bob Harper or Jillian Michaels and have them help you stay away from all the treats!
Michael Phelps
Live your Olympic dream and go as Phelps! Wear a spandex body suit, or tight swim trunks with an Olympics themed T-shirt or sports jacket. Plop a swim cap on your head with a pair of goggles. Don't forget all those gold metals! Metals can be easily found at costume shops, or make your own by spray painting cut out pieces of cardboard and tying ribbon to them.
If you're lucky enough to live in a warm climate and have the guts you can go all out and go for the Speedo! Come on we dare you! Go for the gold!
Mckayla Maroney
Break out the gymnast leotard, wear your hair in a slick, tight ponytail, and don a silver metal. Voila!
Couples Ideas:
Though we're not too sure the match would ever work in real life, this could be a great match up with Michael Phelps for hallow's eve.
Richard Simmons
You need the sparkling attitude to go with the sparkling shorts to pull this character off. Better up the caffeine intake! What to wear: curly brown wig, tight fitted tank, shiny short shorts, scrunched socks, and bright white shoes. Polish it off with a couple of light dumbbells or a resistance band.
Jane Fonda
All these years later, and dressing like this icon will definitely still turn heads. All you need is a bright-colored leotard and tights, leg warmers, headband across the forehead, and wristbands.
Dreams do come True
Live your childhood dream of being on the cover of the Wheaties box. This costume sells online for around 25 bucks, or get creative and make it yourself!
Horse Jockey
White pants tucked into knee-high boots, colorful jersey (checkered is even better), a cap and a riding crop and you've got the jockey costume down. Just be careful who you whack with that crop!
Couples Idea:
For a fun couples costume, have your partner dress up as a horse.
Be a Total Knockout
There is so many ways to pull off the boxer look. Shorts with or without tank, robe, boxing helmet, boxing gloves… Add a black eye for effect or put a cotton ball under your lip so it looks swollen.
Couples Idea:
Have your sexy lady dress up like a boxing ring girl. Wear short shorts, and a bikini top, and carry round cards. Grrrr!
The Hulk
This is for the man who has the body to flaunt. Simple. Simple.
Paint yourself green (with body paint), rip up a pair of pants, and pray for warm weather.
It's kind of impossible to ask people to stay away from candy completely on Halloween, but knowing what are the "better choices" goes a long way in maintaining your sexy body that you've worked so hard for. Read our article Halloween Survival Guide for great tips.
Now go out there and flaunt it!
If you use one of our ideas be sure to post a pic on our facebook or twitter pages.
Happy Halloween
Resources: Fitbe.msn.com, Huffington Post, fitsugar.com