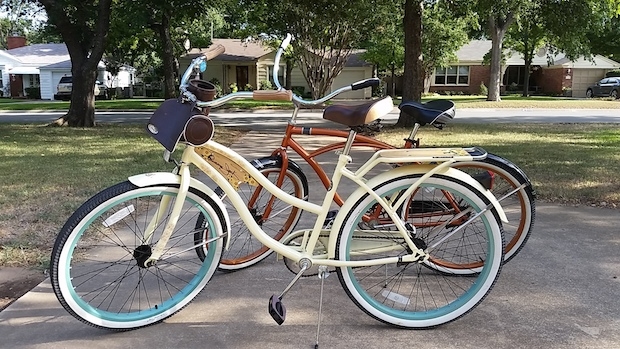 If your life is anything like mine, some days it is hard to get even 1-2 hours of quality time in with your spouse (not counting sleeping!). When we got tired of this "we're both working but not seeing each other" lifestyle, we decided that something had to change. Although the idea of asking the universe to add just one hour on to each day was a lingering thought in both of our minds, we made a choice that we would carve out time to work out together each day. Although at first I was skeptical of this new "agreement", it forced both of us to get out of our fitness comfort zones, and actually brought us closer together. Below are a few activities that work for us!
1- Running
Although this is not my husband's favorite activity (it's mine), running can be done anywhere outdoors (of course, if it's not raining). I began running when I was in grad school (no, no marathons for me). The cool thing about running is that the more you do it, the farther you can go in a pretty fast amount of time, and it requires no equipment. It is a great activity to do with your spouse especially if you set a goal or register for a race. When my husband and I were engaged, we decided to run a 5k together right before the wedding. It was great motivation to train together, as well as to be accountable to each other.
2-Working Out at Home
Whether you live in a spacious home or a small apartment, working out at home with your spouse typically only requires two things: a computer or TV and a little room to move around. There are so many awesome workouts online that require no equipment. From HIIT (High Intensity-Interval Training) to Zumba to using resistance bands, there are a multitude of options out there that you can try out once or twice a week with your spouse. Fitness magazines also frequently feature couples workouts that are fun and challenging.
3-Going to the Gym
Before I met my husband, I had never lifted a weight in my life. Now, its one of my favorite activities to do, hands-down. When I first began going to the gym with my husband, he was able to educate me on how much I should lift, what my form should look like, and how important it was to mix up your workouts to generate muscle confusion, which built a lot of trust between us. If both you and your spouse have never lifted weights before like I hadn't, ask a certified professional or trainer at your gym to help you select the correct weights for your body and to show you the correct way to lift!
4- Riding a Road Bike
There are literally bike trails popping up everywhere right now in the U.S.! Road and mountain biking have become popular physical activities to do in the past few years, and they really don't require much skill other than knowing how to ride a bike. My parents find this activity a good one to do together where they live in Arkansas because they love to be outdoors and enjoy the scenery. You can also get a simple cruiser bike and go on a ride with your spouse around your neighborhood or park.
Whatever activity you choose to try with your spouse, enjoy the time spent together, and don't forget to laugh along the way! Life is a journey that should be enjoyed with the company of others.