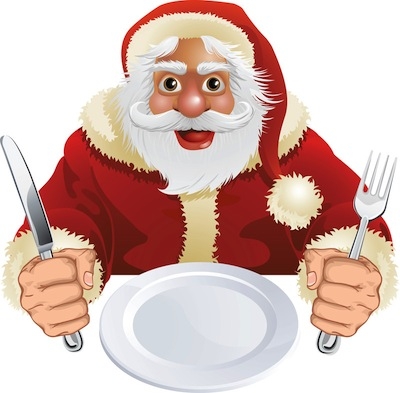 Of course, the last thing you want to think about while trying to enjoy the holidays is your diet, but you shouldn't drop the ball all together. During the holidays your focus should shift from weight loss to weight maintenance. It's all comes down to making the right choices, and in order to do that you need to be armed with the right info. So, here you go!
Most people don't realize that finger-foods and drinks are the worst holiday culprits. These calorie filled bites are usually consumed on an empty stomach while being distracted by holiday banter, leading you to eat a lot more of these suckers than you probably think!
APPIES
Vegetable Egg Rolls
Just because there are vegetables in them doesn't make them good for you. The vegetable filling is sautéed in oil, covered in dough, and then deep-fried. You're looking at 150 – 200 calories for just one small egg roll.
Vegetable Quesadilla
Eating just one quarter of a 6-inch quesadilla, filled with cheddar cheese and vegetables will set you back 146 calories and 11 grams of fat!
Pigs in a Blanket
Sure they're fun, but each one of these cuties will cost ya 70 calories and 5 grams of fat apiece. The average person eats at least three, so you're looking at eating 210 calories on these little buggers alone!
Crab Cakes
Since crab cakes are filled with mayo, covered in breadcrumb and deep fried, one little crab cake will cost you 400 calories and 19 g fat. You are actually better off having a dozen shrimp! (165 calories and 1 gram of fat for 12). Just beware of the cocktail sauces, which are usually loaded with sodium.
Cream-Based Soups
When it comes to soup, clear broth soups are often the safer bet. The cream will really get ya. Just one cup of clam chowder can have 163 calories, 5 grams of fat, and 1,144 milligrams of sodium!
Spanakopita
Come on! You know what this is! Those yummy Greek inspired spinach and feta filled bites of phyllo dough. You know you love em, but one small triangle is 80 calories and 4 grams of fat.
Mixed Nuts
Yes, nuts are nutritious but keep in mind the party kind is usually covered in salt. A small handful of Planters mixed nuts (1/4 cup) nets you a whopping 340 calories, so watch your portions!
Holiday Drink –
Choose Hot Chocolate NOT Eggnog
With the primary ingredients of eggnog being milk, cream, and eggs there is no doubt why eggnog is a huge Christmas no-no. (350 calories, 19 g fat, 22 g sugars per glass). Hot chocolate is just as tasty with nearly one-third of the calories (120 calories, 4 g fat, 15 g sugars). For a great Hot Chocolate Recipe see our article: Winterland Workouts
Holiday Cocktail –

Choose Champagne NOT Gin and Tonic
Most people think of Gin and Tonic as a light drink, but tonic water contains a surprising 20 grams of sugar per 8-oz serving, making it equivalent to a soft drink. Champagne contains only one-fourth of the sugar, so celebrate with some bubbly!
Dessert –
Choose Chocolate Fondue NOT Pecan Pie
Compared to other holiday sweets, pecan pie deserves a big lump of coal! The filling is nothing but corn syrup and sugar, and a slice will run you 810 calories! Fruit dipped in fondue is a lot less naughty! By making the right choices and continuing to exercise regularly in between all the celebration you can start the New Year off feeling great, and not like you're starting from square one. Be smart, but don't stress too much about it. Remember the holidays are about relaxing and having a good time with the ones we love.
Bon Appetit!
Source: Fitness Magazine & Men's Health