Benefits of Ripcords
Doctor and Physiotherapist Approved
Resistance training exercises has long been the physiotherapists answer to torn rotator cuffs, bad knees and general rehabilitation.
The reason for this is:
Resistance bands allow for a more natural joint rotation then with standard gym equipment, because they dont allow your joints to lock into a static position. This makes exercises more comfortable, easier on joints, and therefore less likely to cause injury.
Unlike with free weight and gym equipment you are providing the resistance, so you can easily determine what is a good level for you.
Sports Specific Training
Ripcords are better for flexibility, range of motion, injury prevention, and stabilizer muscle development, and so for most athletes they are the obvious choice over free weights.
Unlike free weights or bulky machines, Ripcords and the door anchor allow you to practice almost any sports specific motion youd like. Just anchor the Ripcords resistance band to the door using the door cuff and begin strengthening the muscles used in your favorite sport. For example, practice your golf or baseball swing, your tennis serve, or pitching motion.
In addition to his Circuit7 full body workout, world kickboxing champion Michael McDonald uses Ripcords to strengthen stabilizer muscles in his punching and kicking motions.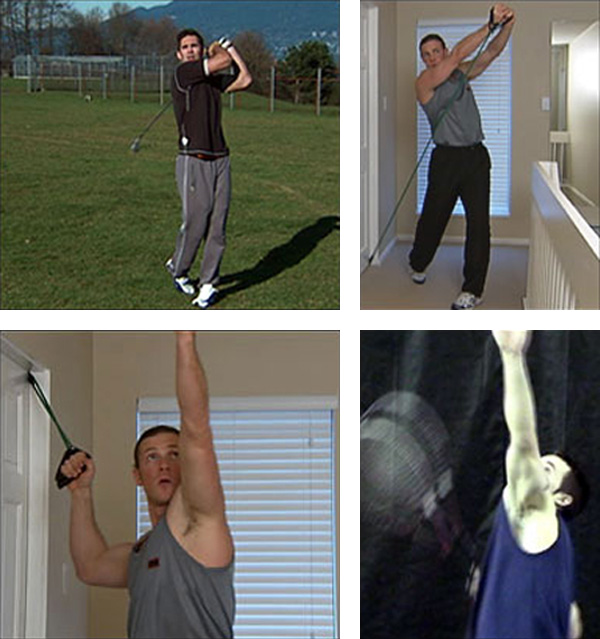 Top 10 Benefits of Resistance Training with Ripcords
BURN FAT & GAIN MUSCLE

Get proven results: burn fat, gain lean muscle and feel great from Michael McDonalds Circuit7 ? the fastest, most efficient workout ever.

SAVE TIME

Circuit7 is so efficient and effective, youll get the benefits of a 40 minute workout in just 7 minutes. No wasting time driving to the gym and waiting in line for equipment.

ANYWHERE & ANYTIME

Workout at home, at work, in a hotel room, in a park, at the beach or even on top of your favorite mountain if you can get up there.

SAVE THOUSANDS OF DOLLARS

No gym memberships and no expensive home gym equipment. The whole system costs less than a month at most gyms.

SAVE ROOM IN YOUR HOUSE

No bulky home gym units or free weights.

PREVENT INJURY

Help protect your body from injuries by working the whole muscle, including the stabilizer muscles.

IMPROVE CARDIOVASCULAR HEALTH

Rapid changes between exercises, not possible with bulky machines, means you get a cardio workout too, improving the health of your heart and lungs.

LOCK IN MUSCLE GAINS & SORE THROUGH PLATEAUS

For those of you already putting in hours with free weights and machines, your frustrations of fluctuating strength and extended periods of time where strength does not increase, need not look further than Ripcords. By properly activating your stabilizer muscles Ripcords will provide the necessary foundation to train at your best.

IMPROVE FLEXIBILITY & RANGE OF MOTION

Ripcords use tension based resistance training improving flexibility and range-of-motion.

NO RISK

If youre not completely satisfied with the way you look and feel within 90 days, simply send it back for a full refund, no questions asked. As well, Ripcords come with a lifetime replacement warranty.