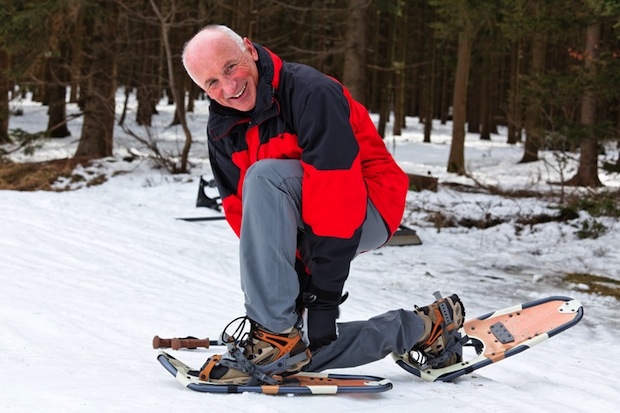 In our last article we spoke about fun winter activities that make great workouts for you and your whole family. Here are a few more activities to keep you going all winter long!
But first, A Cold Weather Tip…
The nice thing about working out in winter is that you actually burn more calories just by being in the cold. Your body maintains a temperature of 98.6 F. Your core temperature drops when you are cold, so your body needs to exert energy to bring the temperature back up (i.e. shivering) which burns calories. That being said, standing still in the cold is NOT great way to lose weight, but it's good to know that you are getting a little helping hand from Jack Frost.
Walk You can still walk in the winter provided that you are properly dressed. (see part 1 of this article for layering clothing tips). A step up from normal walking is walking around in deep snow, the deeper the better. (Ok! Not too deep! You don't want to be up to your neck in the stuff!). Walking in snow requires more effort from your legs and heart. Just be sure to wear boots that will keep your feet dry and warm.
Snowshoeing Snowshoeing is great for increasing stamina and building leg muscles. You can burn anywhere from 360 -860 calories/hour, depending on your speed and the depth and packing of the snow. Because the movements are very similar, snowshoeing is a great way to condition for running. Snowshoes add resistance, yet there is less impact on joints.
Play with the White Stuff! Looking for an idea for the whole family? Why not build a snowman or a snow fort? Heck, you could even have a snowball fight! Walking around and carrying large snowballs/snow blocks burns calories and also gives you a strength workout. Replace your exercise ball for a day by rolling that snowball to make it bigger and bigger for a snowman body. It's great for the core.
Cross-Country Skiing Cross-country skiing is a great full-body aerobic workout (especially for your biceps, glutes, hamstrings, triceps and quads). And it doesn't put stress on your joints! Burn 560 calories/hour or more.
Take it to the Ice Ice-skating is a great low-intensity workout that can be done alone or in a group. It boosts balance, builds muscle, and helps with agility and flexibility. If you're good enough to do jumps it can even help increase bone strength. If you are more sporty, there is always ice hockey. You get a full body workout in hockey because the lower body and abdominal muscles are working to maintain balance, the upper body is used to move the hockey stick, and let's not forget the incredible cardio workout.
Don't let winter get the best of you. No more gaining weight over winter! Enjoy! Check out our previous article on more winter activities.
To Help Get the Chill Out…
HEALTHY HOT CHOCOLATE RECIPE
Ingredients:
2 cups of soy, skim, rice or almond milk
2 rounded teaspoons of 70% dark chocolate cocoa powder (the higher the percentage, the more bitter – but healthier – it will be)
2 teaspoons of organic sugar or sugar substitute, or even try maple syrup
Heat the milk in a saucepan over medium heat until steaming (but not boiling).
Add cocoa powder and sweetener and whisk to combine ingredients.
Whisk the cocoa powder and sweetener until well blended.
Pour into your favorite mugs and enjoy!
If you want to give it a little more pep add some cinnamon or nutmeg.