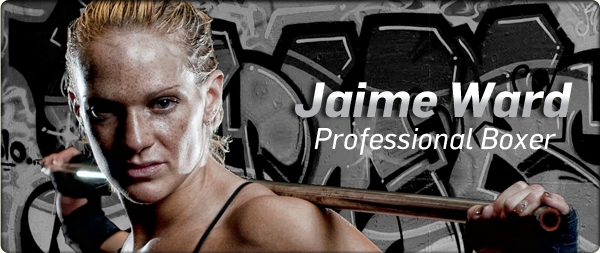 Jaime Lynn Ward is one tough girl. A fierce competitor in the ring and a hard working trainer when not fighting, Jaime uses the Human Trainer to improve her flexibility, agility and strength.
Jaime was born in North Vancouver, BC Canada, and although she has lived all over Canada and the USA as well as Australia for bit, she now resides back in her birthplace of North Vancouver.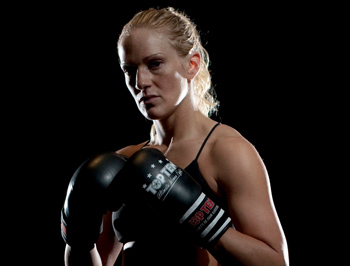 As a child Jaime was always very active and participated in baseball, skating, and skiing. But because of Jaime independent nature it was individual sports that she was drawn to. As a teenager she competed in downhill skiing, mountain biking and swimming. In her early 20′s she challenged herself with marathon running and competing in triathlons. In 2003 Jaime moved to Calgary to attend the Alberta College of Art and Design where she studied Graphic Design. Because it was too cold in the winter to continue with her triathlon training, Jaime found her way into boxing classes held at the University of Calgary. Immediately she was hooked.
In 2005, Jaime returned to Vancouver and joined the North Burnaby Boxing club with fellow boxer and friend Rosalia Calla. Jaime spent the next 8 months training under a handful of coaches at North Burnaby until she met her now husband and boxing coach, Dave Schuck. In 2006 she and Dave joined the Astoria Fraser Arms boxing club where Dave took on the roll as head coach. He continues to training Jaime today along with Nick Csaszar. Jaime has now been competing solidly for over 5 years. She has had over 30 competitions and is a repeating BC Champion, Best of the North West Champion and won a bronze at the Nationals.
In February 2011 Jaime earned a place on the Canadian National team at the Final Team Selection. Her future objectives, besides representing Canada in 2011, is to win gold at the 2012 Nationals and attend the 2012 World Championships. Besides boxing Jaime works as a creative director and designer and owns her own marketing firm called GingerKid Creative. She also works with SOHO small business group as a creative director.
[youtube=http://www.youtube.com/watch?v=vKpc_NDdzi4]
We had a conversation with Jaime. See what she has to say about the Human Trainer:
How do you use the Human Trainer?
I use the human trainer a lot when I travel. It's great because most gyms at hotels are lacking equipment that I need, or they don't have gyms at all. With the Human Trainer I can just hook it up to my hotel room door and get in a full strength and conditioning workout without having to go searching for a gym or pay large gym fees.
What do you find the most effective about the Human Trainer?
I get a full body workout, even if I'm working a specific muscle group. Because it's so dynamic I never get bored; there are hundreds of exercises I can do on it and I'm always making up new ones! It's also a lot of fun to use. I seriously feel like an acrobat when I'm woking out on it.
Do you use the Human Trainer outdoors anywhere?
There is a track right by my house and sometimes when I'm doing my sprints I'll bring my Human Trainer to get in some conditioning. Everyone always stops to have a look. It's pretty funny!
How has the Human Trainer helped you with your boxing?
It's really made me aware of my body, the muscles I'm using and form. These are all things that I need to be conscious of when I box, so it just strengthens that awareness.
What would you tell other people about the Human Trainer?
It's a totally FUN and HARD workout. It's one thing to go and lift weights, but the Human Trainer works your whole body all at once. It's way cheaper than a gym membership and it doesn't get boring like weights! FUN, FUN, FUN!!!